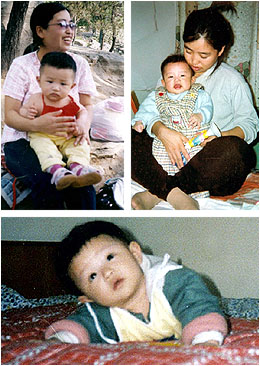 Little Tianxiang lost his mother to the persecution of Falun Gong. The report of Tianxiang's mother's death was one of 68 received in the last two months – likely only a fraction of the actual number.
LONDON [EFGIC]– During September and October, sources in China reported 68 cases of people who died as a result of the persecution of Falun Gong.
At the time of writing the deaths of 1,101 Falun Gong practitioners have been reported at an average of 17 cases per month (details).
42 cases were recorded in October, representing one of the highest monthly totals since the persecution of Falun Gong began in 1999.
The victims generally began practising Falun Gong in the mid to late '90s. Many of them, such as Mr. Li Chunwen (see details below), are said to have recovered from chronic illnesses through their spiritual discipline. They were arrested and eventually killed for continuing to talk about how they had benefited from the practice; others were arrested for protesting the ban in Beijing.
The 68 practitioners primarily died of beatings and torture, infections from forced feeding and severe stress induced by extreme police harassment, murder of family members and total disruption of their lives. Many of the persecution cases were the second or third cases of persecution in the family. The example of Mr. Wang whose daughter, daughter-in-law, grandson, and granddaughter-in-law were all sentenced to three years of forced labour because of their belief in Falun Gong is cited below.
At 78, Mr. Wang was the oldest victim reported over the two months while the youngest was 30. The average age at the time of death was 52. Among the victims are a former pilot, high school chemistry teacher, head nurse, and taxi driver. Slightly over half the victims were women. They were killed in Beijing and 17 provinces, with cases in north-eastern China's Hebei, Heilongjiang, Jilin, and Liaoning accounting for 27 of the cases. Of the practitioners reported in September and October, 33 actually died during these two months.
A few of the cases are summarized below:
Perpetually Terrified Until the Last Day
Ms. Chen Lijun from Zhengzhou City in Henan Province suffered lengthy mental and physical torture for practicing Falun Gong. Labour camp guards stuffed human excrement and sanitary towels into her mouth while incarcerated drug addicts took turns punching her chest, abdomen and private parts. Forty year-old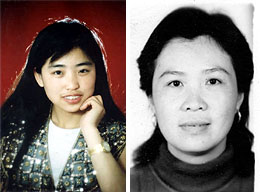 Ms. Feng Xiaomin and Ms. Chen Lijun both lost their lives as a result of brutal treatment in custody. They are among thousands killed for their peaceful practice of Falun Gong in China.
Ms. Chen managed to escape from the labour camp but was extremely weak and emaciated, with arms thinner than a child's and a distended abdomen. She became perpetually terrified and fearful of any stranger. She passed away on September 29, 2004.
Renewed Life Taken Away
Before practising Falun Gong, Mr. Li Chunwen suffered from rheumatic heart disease. After a friend introduced him to the practice in 1995 his health improved dramatically. He would often say: "I would have lost my life a long time ago if I had not practised Falun Gong. It is Falun Gong that saved my life."
He was arrested while on his way to Beijing to appeal the ban and was detained in Hebei. He was handcuffed to a tree, a steel door, or a bed for up to nine days at a time and was sometimes left outside in northern China's freezing cold weather. Officers tied a thin rope under his arms and two of them pulled him up while two others stood on his calves. The thin rope cut into his flesh causing severe bleeding and excruciating pain. Mr. Li stopped breathing after ten minutes. Once he recovered, they beat him and shocked him with electric batons for a second and third round. Mr. Li could not breathe, eat, or sleep properly and his internal organs were in constant pain. He died in June 2004, leaving behind his wife, daughter, and young granddaughter.
78-year-old Dies following Police Harassment
Along with many members of his large family, Mr. Wang Qirong from Jilin began practising Falun Gong in 1996. After 1999 his daughter, daughter-in-law, grandson, and grandson-in-law were all sentenced to three years in labour camps for practising Falun Gong. On March 13, 2003 a group of officials showed up at Mr. Wang's house to arrest one of his family members. Since she was not there, they began harassing Mr. Wang instead causing severe emotional trauma. Mr. Wang died the next day.
Abandoned Baby
When Feng Xiaomin's sister and brother-in-law were arrested for practising Falun Gong, the Qiqihar Normal University graduate travelled to Beijing to appeal for them. She was detained and beaten. Thirty-four year-old Ms. Feng did not give up and began researching citizens' rights. She made phone calls, wrote letters, and visited police stations to try to get her sister and brother-in-law out of detention. She was arrested in 2001, beaten and tortured causing her to lose consciousness several times.
Ms. Feng and her husband left home to escape further persecution, and she gave birth in 2002. The couple separated to reduce the chance of being seized. Unable to take care of the baby on her own, she left him in her sister's care. In May 2004 someone found Ms. Feng and brought her back to her sister. By this point Ms. Feng would slip in and out of consciousness. Doctors suspected she had received a head injury, and her family believes that police had tortured her again. She was in delirium and thought everyone around her was a policeman, constantly shouting that she will not allow the police to persecute her. She passed away in June 2004. Her two-year-old son, Tianxiang, who is being raised by his aunt, runs to hide behind adults and yells "afraid" whenever someone knocks at the door.
# # #
NEWS– Nov.09, 2004
European Falun Gong Information Centre, More contacts. www.clearharmony.net
Background
Falun Gong, also known as Falun Dafa (about), is a practice of meditation and exercises with teachings based on the universal principle of "Truthfulness-Compassion-Tolerance." Practised in over 60 countries world-wide, Falun Gong has roots in traditional Chinese culture. With government estimates of as many as 100 million practising Falun Gong in China, China's then-Communist leader, Jiang Zemin, outlawed the peaceful practice in July 1999 (report). Since that time, Jiang's regime has intensified its propaganda campaign to turn public opinion against the practice while imprisoning, torturing and even murdering those who practise it. The European Falun Gong Information Centre has verified details of 1101 deaths (reports) since the persecution of Falun Gong in China began in 1999. In October 2001, however, Government officials inside China reported that the actual death toll was well over 1,600. Expert sources now estimate that figure to be much higher. Hundreds of thousands have been detained, with more than 100,000 being sentenced to forced labour camps, typically without trial.

FOR MORE INFORMATION, PLEASE CONTACT THE EUROPEAN FALUN GONG INFORMATION CENTRE – Peter Jauhal + 44 (0) 7739 172 452 Nicolas Schols +32 47 98 75 734
More contacts. www.clearharmony.net Email: europe@falungonginfo.net
You are welcome to print and circulate all articles published on Clearharmony and their content, but please quote the source.