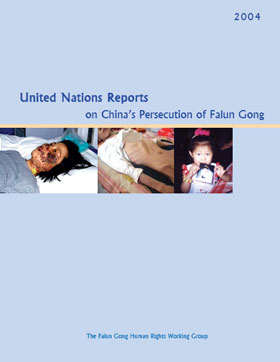 Newly published book compiles U.N. reports on wide-spread denial of freedom of belief, abuse, torture and extrajudicial killings of Falun Gong practitioners.
LONDON [EFGIC] – The Falun Gong Human Rights Working Group (
website
) has announced the publication of The 2004 United Nations Reports on China's Persecution of Falun Gong. In its second edition, the book is a collection of reports issued by the Special Rapporteurs of the United Nations Human Rights Commission on China's violent, and often deadly, persecution of Falun Gong practitioners.
Each year, the U.N Special Rapporteurs publish summary reports on human rights situations around the world. The violations against Falun Gong have attracted increasing condemnations from the Special Rapporteurs.
"These findings and reports convincingly dispel the Chinese government's claim of China having its 'best period of human rights'," says Ms. Liying Zheng, a volunteer editor for the Working Group.
Contained in the book are reports issued by Rapporteurs from a number of different specialist areas, including Torture, Extrajudicial, Summary and Arbitrary Executions, Violence against Women, Freedom of Religion or Belief and the Freedom of Expression.
The Special Rapporteur for Extrajudicial, Summary or Arbitrary Executions has stated: "The Special Rapporteur continues to be alarmed by deaths in custody in China. Reports describe harrowing scenes in which detainees, many of whom are followers of the Falun Gong movement, die as a result of severe ill treatment, neglect or medical attention. The cruelty and brutality of these alleged acts of torture defy description."
One of the more than 50 cases, listed by the Special Rapporteur on Violence against Women, is the case of a University student from Chongqing City: "According to information received, on 13 May 2003, several policemen took her to a cell in Baihelin detention centre in Shapingba district and forced two female inmates to strip her. One of the uniformed policemen reportedly pushed her to the ground and raped her as the other inmates watched. Police reportedly botched a violent attempt to force-feed her when she went on hunger strike, seriously injuring both her trachea and esophagus, leaving her unable to speak."
The book also documents more than 30 torture methods commonly used on Falun Gong practitioners throughout China, many of which are demonstrated in photographs taken of the victims inside China.
An updated background section provides an introduction to Falun Gong, its cultural and historic roots, as well as an historical review of how Falun Gong grew in popularity throughout China before the persecution against the traditional Chinese practice was launched in 1999 by then-Chinese leader Jiang Zemin.
"The Falun Gong Human Rights Working Group hopes this new book will help public awareness of the horrific onslaught of terror against Falun Gong in China," says Ms. Zheng. "We further hope more people can help to publicize the book and the issue, and take whatever actions within their power to stop this tragedy, and to speak for those who have no voice."
The book can be freely downloaded from www.flghrwg.net
# # #
NEWS – Dec.07, 2004
European Falun Gong Information Centre, More contacts. www.clearharmony.net
Background
Falun Gong, also known as Falun Dafa (about), is a practice of meditation and exercises with teachings based on the universal principle of "Truthfulness-Compassion-Tolerance." Practised in over 60 countries world-wide, Falun Gong has roots in traditional Chinese culture. With government estimates of as many as 100 million practising Falun Gong in China, China's then-Communist leader, Jiang Zemin, outlawed the peaceful practice in July 1999 (report). Since that time, Jiang's regime has intensified its propaganda campaign to turn public opinion against the practice while imprisoning, torturing and even murdering those who practise it. The European Falun Gong Information Centre has verified details of 1150 deaths (reports) since the persecution of Falun Gong in China began in 1999. In October 2001, however, Government officials inside China reported that the actual death toll was well over 1,600. Expert sources now estimate that figure to be much higher. Hundreds of thousands have been detained, with more than 100,000 being sentenced to forced labour camps, typically without trial.

FOR MORE INFORMATION, PLEASE CONTACT THE EUROPEAN FALUN GONG INFORMATION CENTRE – Peter Jauhal + 44 (0) 7739 172 452 Nicolas Schols +32 47 98 75 734
More contacts. www.clearharmony.net Email: [email protected]
You are welcome to print and circulate all articles published on Clearharmony and their content, but please quote the source.