Associate Professor Li from the Department of Physical Education in the Tainan University Graduate School offered a course this semester called "Schools of Qigong." The intention was to widen national elementary school physical education instructors' understandings about Chinese martial arts and qigong, and initiate research on some specific schools of qigong. Therefore, the professor wanted to help students understand what Falun Gong was. I once studied at Tainan University, originally known as Tainan Normal University, and practiced the Falun Gong exercises on the campus sports field. Because of this, professors in the Department of Physical Education invited me to their classes to introduce Falun Gong. Beginning in December 2004, several practitioners and I started introducing Falun Gong to students on Tuesday evenings for two weeks. Most of the students taking courses here are physical education instructors from different schools.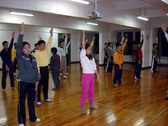 Learning the Falun Gong exercises
Before the class, the professor handed out Falun Gong materials so that the students could learn how Falun Gong is widespread around the world, and about the persecution launched by the Jiang's faction against Falun Gong. During the class, we shared a story of how Mr. Au Manguan, chairman of the orthopedics department, improved his physical health and moral standard through practicing Falun Gong. We also invited several fellow practitioners to share their own experiences of cultivating Falun Gong. During the classes we played video programs to help the students know more about what Falun Gong is and to help them remember that "Falun Dafa is great." Finally, we taught the Falun Gong exercises to the students. In the second class, we also shared a picture that was taken at a wedding ceremony, which captured the image of the Falun emblem.
Professor Li said that even the short, three-hour class allowed students to understand that Falun Gong is a very profound practice. He said that more study and research would be effective for the instruction and promotion.
Over the past five years, some instructors, officials, and students in the university have come to know that the Falun Gong group practice takes place on the campus sports field. People are now showing interest in the practice. Perhaps the right time has come and we've encountered more people who want to learn Falun Gong exercises.
One person made an appointment to meet us at 6:40 p.m. in front of the campus's front gate to learn the exercises. For some reason, he made a mistake about the meeting time and he arrived at the campus gate at 5:40 p.m. It was very cold that day, but he remembered the principles of "Truthfulness-Compassion-Forbearance," and he decided to be patient. He waited there until 6:40 p.m., when the practitioners arrived.
You are welcome to print and circulate all articles published on Clearharmony and their content, but please quote the source.