Upon learning that the head of the Chinese Communist Party (CCP) Hu Jintao is coming to the US in September, 2005, to attend the United Nations' 60th anniversary celebration and to meet with US President, Falun Gong practitioners in Texas formed a 'Rescue Orphans' car tour group. On August 19th-21st, 2005, the group travelled between major cities in Texas, Austin, Houston, Dallas and Waco, as well as President Bush's ranch in Crawford to hold activities to appeal through the media to let more people learn about the CCP's persecution of Falun Gong, call for an end to the persecution, and rescue orphans of Falun Gong practitioners who have died as a result of the persecution.
Meeting with Congresswoman in Houston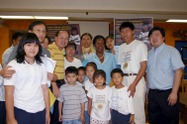 Congresswoman has a photo taken with practitioners from "Rescue Orphans" car tour group
When the car tour group travelled from Austin to Houston on Saturday August the 20th, Congresswoman Sheila Jackson Lee happened to be attending a meeting on "immigration law". Some local practitioners and the "Rescue Orphans" group also attended the meeting. After Congresswoman Jackson Lee and others gave their speeches, there was an opportunity for the audience to raise questions. Falun Gong practitioners Mr. Huang raised the issue of the CCP's persecution of Falun Gong to the congresswoman.

Practitioner introduces the persecution of Falun Gong in China to Congresswoman
Little members of the "Rescue Orphans" group were introduced to the congresswoman. When the congresswoman learned that the young members of the group had travelled such a distance to come to Houston, she was very happy and had a photo taken with the children and Falun Gong practitioners. Local TV stations were present to cover the event.
Let children have a free life
Mr. Pan who was in charge of this "Rescue Orphans" car tour in Texas is from St. Anthony. He said, "The route taken by this 'Rescue Orphans' car tour began in Austin and continued through Houston, Dallas, Waco, concluding at President Bush's ranch in Crawford.
During the three days, we had opportunities to hold several press conferences. For example, we held a press conference in front of Austin City Hall and introduced the significance of the rescue efforts to western media, and then we held a press conference in front of the Chinese Consulate in Houston. The largest media outlet in Houston, "Houston Chronicle", covered the event. Bryan City is well-known around the world for being President Bush's library and for its renowned university A&M. When we were there, reporters from the two local TV stations came to conduct interviews. We also held related activities at Collage Station City Hall and other places."
Mr. Pan said, "In China, the CCP persecutes Falun Gong, which has brought misfortune to practitioners' families. There is currently information on 2,784 confirmed deaths of Falun Gong practitioners as a result of the persecution. Their children have become orphans. These children not only haven't received any help, but have instead suffered great pressure. America takes freedom as its base for the founding of the country. Our group took the opportunity, of Hu Jintao visiting the US and his meeting with President Bush, to hold 'Rescue orphans' activities so that more people can learn about the CCP's persecution of Falun Gong. We can work together to stop the persecution, rescue the orphaned children and allow the orphans of Falun Gong practitioners to come to the US to enjoy a free life."
Car tour arrived in Dallas
After visiting Houston, Bryan City, the "Rescue Orphans" car tour group went to Dallas, Texas. At 10:30a.m. on August the 21st, they held a press conference in front of the largest Chinese supermarket calling for the local people and the government to pay attention to the plight of Falun Gong orphans in China and to rescue them so that they can be allowed to come to free countries.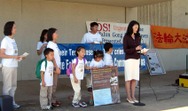 Press conference
There were ten people in the group, and each wore a white T-shirt with, "Rescue Persecuted Falun Gong Children" printed on them. Four were young Dafa practitioners.
These young practitioners travelled with their parents in the hope that through everyone's efforts, children in Mainland China, that are of a similar age, can enjoy a happy childhood like them. At the press conference, two young practitioners said in their speeches, "Please support the rescue of Falun Gong orphans in China."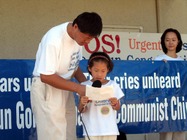 Call for rescue children of their similar ages
The CCP's persecution of Falun Gong has caused more than 2,700 innocent Falun Gong practitioners to lose their precious lives. At present we have verified that more than 250 children have lost their parents. These children have not only endured tremendous pain from losing their parents and difficulties in life, but also have been forced to face harsh environment, for example, they are being prejudiced against because their schools implement the persecution policy. Children of their similar age who have not learned about the truth pointed fingers at them, which greatly hurt their young hearts. They have endured too much. Representative for the Global Rescue ("Global Organisation to Rescue Persecuted Falun Gong Practitioners.") said, "In order to rescue persecuted Falun Gong orphans to come to the US, Falun Gong practitioners in North America is holding a series of rescue activities together with Global Rescue. It is reported that Global Rescue has successfully rescued two children to come to the US to be reunited with their families through appeal and help of US congressmen, non-governmental organisations and the righteous people."
One of the initiators of the activity, Mr. Pan from St Anthony brought his daughter to take part in the whole activity. He said, "We know the CCP leader Hu Jintao will visit the US next month, we request the Chinese government to unconditionally allow Falun Gong orphans to leave China to come to the US or other countries, to let them have a stable life, and have a warm home like us."
The Epoch Times in both Chinese and English, NTDTV and Channel 8 sent reporters to conduct interviews and cover the activities.
You are welcome to print and circulate all articles published on Clearharmony and their content, but please quote the source.