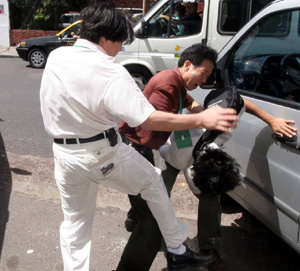 Chinese assailants beat a Falun Gong practitioner to the ground in Buenos Aires outside Argentina's National Congress. Witnesses say local police were unresponsive to cries for help and believe they were under orders from visiting Chinese officials not to interfere with the assailants.
NEW YORK (FDI) - The Falun Dafa Information Centre (FDI) has received first-hand accounts of assault, battery, and theft perpetrated against Falun Gong practitioners in Argentina. The assailants were described as ethnic Chinese, all wearing suits, and driven by car and van to the scene of the crime; photo evidence has confirmed these descriptions.
The incident took place Wednesday December 14th, in broad daylight beginning at 10:30A.M. local time, outside Argentina's National Congress in Buenos Aires. Several members of the Falun Gong group were injured in the assault, including women. Banners and poster displays documenting rights violations in China were wrestled from the Falun Gong and stolen by the assailants.
The nature of the stolen items - human rights materials - strongly suggest political motivations and backing.
The assault is believed to have taken place in connection with the visit to Buenos Aires Wednesday of top-ranking official, Luo Gan, who formerly headed China's secret Falun Gong Control Office, the "6-10 Office." Luo was served with a lawsuit in Argentina on Tuesday, one day prior to the assault, for his involvement in genocide against the Falun Gong in China. Victims and witnesses at the scene described the assault as "highly-organised" and "terribly violent." One man was seen being beaten to the ground and then kicked repeatedly while down. Witnesses had their cameras and film wrestled from their hands by several unidentified Chinese men. One member of the Falun Gong group had a cell phone stolen.
FDI is additionally concerned by multiple first-hand accounts that Argentinean police did little to stop the assault. Police, though at the scene, were said to respond "very timidly", and didn't react even when they themselves received blows from the Chinese attackers. One witness even told of police shielding an assailant after upset bystanders tried to intervene. Police did not arrest or question any members of the attacking group.
Witnesses have surmised that Argentinean police knew about the attack in advance and were instructed, at promptings from Chinese officials, not to intervene. The Chinese assailants were seen later in the day outside the nearby Sheraton Hotel, where Luo Gan was reportedly present. The assailants are believed to be part of the Chinese delegation or members of the Chinese Embassy in Argentina.
Disturbing, Global Pattern of Instigation
Wednesday's assault fits into a disturbing pattern of violence, intimidation, and rights violations in connection with visits by Chinese officials around the world. It appears that in each case Chinese authorities have used economic and political clout to pressure host-country governments.
Past incidents of a similar nature span a range of countries. In South Africa, June of 2004, gunmen opened fire on a car of visiting Chinese Falun Gong adherents; the group had just arrived in Johannesburg and planned to serve a Chinese official with a lawsuit for human rights crimes. In Chicago the CCP has sent individuals to physically assault Falun Gong demonstrators who sit outside the PRC consulate. On another occasion there a car was firebombed in broad daylight.
In January of 2004 French authorities arrested over 70 Falun Gong for "wearing the colour yellow" or clothing with the words "Falun Gong" while China's president visited. Icelandic officials adopted a "blacklist," provided by Chinese agents, to bar entry of Falun Gong demonstrators during a June 2002 visit by China's president--a decision the Icelandic Ombudsman recently ruled to be illegal. Myanmar authorities, meanwhile, arrested a 71-year-old man and sentenced him to seven years in prison for raising a banner reading "truth, compassion, tolerance" when China's president visited the nation in December of 2002.
"The free world needs to promptly, and decisively, say that this is wrong and must stop," said FDI spokesperson Mr. Erping Zhang. "China's regime should have no forum anywhere for its draconian policies of control. Assaults like these should never happen in China, much less free, democratic nations. If this is the cost of China's economic friendship, it is a Faustian deal of the worst sort that world leaders are cutting. It's a terrible sell out."
FDI is calling for Argentinian authorities to conduct a prompt and thorough investigation into the incident, and further requesting the assistance of any and all international agencies that might help to investigate the larger pattern of violence and human rights abuses carried out by agents of the Chinese Communist Party against Falun Gong practitioners throughout the world, including Burma, France, Mexico, Germany, and Russia (news).

# # #
NEWS - Dec. 15, 2005
Falun Dafa Information Centre, www.faluninfo.net
---
Background
Falun Gong, also known as Falun Dafa (about), is a practice of the Buddha School, consisting of meditation and exercises, with teachings that emphasise living by three principles: truthfulness, compassion, and tolerance. Originating in China, Falun Gong is now practised in over 70 countries countries. With Chinese government estimates of 100 million China practising Falun Gong in China, in July 1999 the Chinese Communist Party-state launched a nationwide, violent campaign to "eradicate" the practice. The Falun Dafa Information Centre has verified details of 2,791 deaths and over 44,000 cases of torture (Reports / Sources). Millions have been detained or sent to forced labour camps.
---
FOR MORE INFORMATION, PLEASE CONTACT THE FALUN DAFA INFORMATION CENTRE- Contacts: Gail Rachlin 917-757-9780, Levi Browde 646-415-0998, Erping Zhang 646-533-6147, or Christina Chai 917-386-5068. Email: [email protected], Website: www.faluninfo.net

You are welcome to print and circulate all articles published on Clearharmony and their content, but please quote the source.