On December 18th, 2005, Falun Gong practitioners illegally detained at Thailand Immigration Detention Centre entered the fourth day of their hunger strike protest.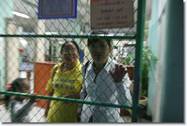 Miaomiao and Liu Ying at the front gate of the immigration detention centre
Miaomiao was physically weak, and could not stand up. Liu Ying hurriedly called the police twice. The police told the practitioners, "We police don't care. Food has been provided, but you don't eat. It's your own business. If you want, you can die as you wish. It has nothing to do with the police." Miaomiao had written two letters to the United Nations and Police Department when she was very weak. Her first letter was passed out of the cell but the police threw it into a dustbin. The prisoner who passed the police' words out of the cell told them about it. Her second letter was rejected by the police who said that it was none of their business. The police also said that Falun Gong practitioners who were on hunger strike were not taken care of by the police. The practitioners are only being temporarily detained here. It is the United Nations that is truly responsible for these Falun Gong practitioners. This is the current situation.
The situation of Huang Guohua, Wang Yajun and Li Jianhui is unknown.
Since December 6th, in order to appeal against the rape of two Falun Gong practitioners in China, Thai practitioners have been peacefully sitting on the footpath opposite the Chinese embassy to hand out Falun Gong truth clarification materials to passersby. Beginning on December 9th, the Thai police, at the behest of the CCP, repeatedly violated Falun Gong practitioners' human rights. On December 10th, the Thai police roughly interfered with peacefully Falun Gong practitioners. On December 14th, when three practitioners distributed truth clarification materials at Pattaya, a tourist city, two practitioners were beaten by the police, and later, three of them were arrested and later released the same night. On December 15th, the Thai police illegally arrested eight Falun Gong practitioners who peacefully protested in front of the Chinese embassy and sent them to immigration bureau. The immigration bureau claimed that they would not release the practitioners until a third country accepts them. Now six practitioners in detention are on a hunger strike. Their situation is dire.
Over the past few days, Falun Gong practitioners from around the world have been making phone calls or going to the Thai embassies or consulates in their local areas to express their concern over this event. They also appealed against the Thai police succumbing to the CCP's pressure to participate in the persecution of Falun Gong.
Telephone numbers for related departments in Thailand:
Immigration Bureau
Address: 507 Soi Suan Plu Sathorn Bangkok 10120
Immigration Bureau Head office: Tel. +66-2287-3101-10 Fax. +66-2287-1310, 2287-1516
Immigration Bureau, Division 1: Tel. +66-2281-5144 Fax. +66-2287-1987
Immigration Bureau, Division 2 Tel. +66-2929-8706 Fax. +66-2535-6844
Immigration Bureau, Division 3: Tel. +66-2287-3903, 2287-3130 Fax. +66-2287-3903, 2287-3130
1.Police Maj.Gen.Suwat Thumrongsiskul, Acting Commissioner,Immigration Bureau
2.Police Maj.Gen.Pornpat Suyanan, Deputy Commissioner,Immigration Bureau (1)
3.Police Maj.Gen. Kunchai Anantasomboon, Deputy Commissioner,Immigration Bureau (2)
4. Police Maj.Gen.Yongyuth Tiewtrakul, Deputy Commissioner,Immigration Bureau (3)
5. Police Maj.Gen.Chaithep Yimlamai, Deputy Commissioner,Immigration Bureau (4)
6. Police Maj.Gen.Chaiya Siriamphunkul, Commander General
7. Police Maj.Gen.Pisut Pumpichet, Commander,Immigration, Bangkok Division
8. Police Col.Chot Khuldiloke, Superintendent,Investigation & InterrogationGroup
SPECIAL BRANCH of the ROYAL THAI POLICE
Address: Rama I Road, Patumwan, Bangkok 10330
(This special branch arrested three male practitioners and little Kaixin, during the arrest, the police were very rude. Since December 6th, the police from this special branch have been interfering with Falun Gong practitioners' protest activities on a daily basis.)
General email: sb@police.go.th
The Office of the Director
Special Branch
Building 24, Royal Thai Police
Rama 1 Road, Patumwan
Bangkok 10330
Tel. +66-2205-1823
Fax. +66-2254-1937
Special Branch 1
Tel +66-2241-5442
Fax. +66-2241-4030/ 3225/ 2061
Special Branch 2
Tel. +66-2254-1937, 2251-4141, 2521-3155, 2282-4388
Fax. +66-2205-1518/1425, 2521-3150, 2282-4388
Huai Kwang Police Station (This police station arrested four female practitioners. During the arrest, many police officers were very rude. On international human rights day, the police from this station tore a practitioner's bag to check and photocopied all ID documents. They also forcibly checked all practitioners' bags.)
Huai Kwang Police Station
2000 Prachasongkror Road Dindaeng Bangkok 10400
Tel: +66-2276-0447, 2276-0449, 2277-4493, 2277-2629, 2277-9118, 2692-6691-2
Fax. +66-2692-6690
General email: huaikwang_pol@hotmail.com
Superintendent Suphsak Phansura
Tel. 2276-0450, 2276-0449 x301
Mobile. +66-1702-7365
Deputy Superintendent of Station, Yingyoj Inthaburan
Tel. 2277-0630 x302
Mobile. +66-1827-9405
Deputy Superintendent of Traffic, Somnuk Phochanapan
Tel. 2277-0630 x601
Mobile. +66-1375-1894
You are welcome to print and circulate all articles published on Clearharmony and their content, but please quote the source.