On the 2nd of November, the Truthfulness, Compassion, Forbearance International Art Exhibition opened in downtown Oslo. The exhibition had previously been shown in many cities all over the world.
The exhibition was arranged by the Network for Human Rights in China and a representative welcomed the guests to the opening ceremony. Torbjørn Røe-Isaksen, editor of Minerva politics and culture magazine and acting chairman of the Young Conservatives in Norway gave the opening speech.
"China is still a dictatorship. China is still persecuting minorities. China is still oppressing religion. China is still using force, torture and prison sentences to keep its people down. The practitioners of Falun Gong have increasingly come to symbolize the struggle for freedom and peace in China. This exhibition is another piece in the puzzle of freedom that they are fighting for," said Mr. Røe-Isaksen.
He went on to point out that they were lucky to be able to gather at this exhibition without interference from the Chinese authorities who have tried to stop this exhibition in other countries.
A representative from the Nordic Falun Gong Association read a letter from the artists whose work features in the exhibition. The letter, about the background and the purpose of the exhibition, was sent to the first Nordic exhibition in Stockholm last summer.
| | |
| --- | --- |
| | |
| A representative of the Nordic Falun Gong Association reads a letter from the artists | Torbjørn Røe Isaksen's opening speech |
The artists of the Truthfulness, Compassion, Forbearance International Art Exhibition are all practitioners of the spiritual practice Falun Gong. Many of the artists have been persecuted in China for upholding Falun Gong's guiding principles of Truthfulness, Compassion and Forbearance. They want their art to help protect justice and stop the persecution of Falun Gong.
The venue had an excellent layout and there were many visitors, especially during the weekend. To support the exhibition the owner of the property kindly provided the space free of charge.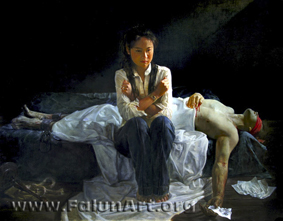 "A Tragedy in China" by Li Yuan - A wife weeps beside her husband, who has been tortured to death at a brainwashing centre. He holds in his hand a pledge that defames Falun Gong that he was forced to sign.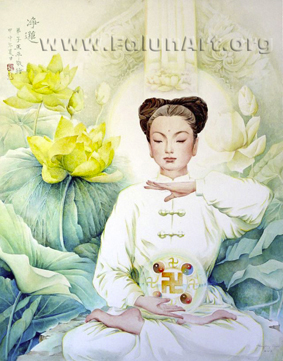 "Pure Lotus" by Chen Zhengping - The woman in this painting practises the sitting meditation, the fifth exercise of Falun Gong. Lotus flowers blooming around her indicate the purifying effect of the meditation on both mind and body.
Paintings from the Truthfulness, Compassion, Forbearance International Art Exhibition Web site
www.falunart.org
.

Originally published in Norwegian at http://no.clearharmony.net/articles/200511/821.html
You are welcome to print and circulate all articles published on Clearharmony and their content, but please quote the source.