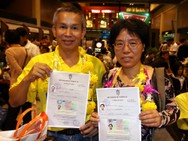 TO FREEDOM IN NORWAY: Li Jianhui and his wife Dai Ying show their newly acquired asylum visas to Norway to the press, prior to flying to Oslo from Don Muang International Airport in Bangkok in the early morning of January 24, 2005. The pair have no passports and walked to Thailand from China in a bid to escape brutal persecution there. (The Epoch Times)
BANGKOK - Four Falun Gong refugees incarcerated by Thai authorities for the past month for protesting the persecution of their peers in China took an early morning flight to Norway on Tuesday, January 24. Wang Yajun, Liu Ying, Li Jianhui, and Miao Miao, accompanied by four family members including two children, flew to freedom and permanent asylum in the Scandinavian country.
United Nations High Commission for Refugees (UNHCR) officials confirmed the arrival of the eight in Norway. Currently they are en-route to Melbu Refugee Centre, near Stokmarknes, in the far north of the country. They will arrive mid-Wednesday, said Melbu Refugee Worker Inger Ajer.
The group's departure, facilitated by the UNHCR, comes a week after another detainee and his four-year old daughter were resettled to New Zealand on January 15. This brings the total of Falun Gong refugees recently resettled to third countries from Thailand to 10. The refugees had fled extreme state persecution in China, and were all under the protection of the UNHCR.
Despite UN protection, Thai police arrested eight Falun Gong refugees last December 15, during a peaceful demonstration to protest the forceful abduction and violent rape of two female practitioners by a Chinese police officer in China. For a week, Falun Gong practitioners in Thailand had been protesting across from the Chinese Embassy in Bangkok. Thai police finally made the arrests after daily pressure that the embassy exerted on the Thai Foreign Ministry, said a Falun Gong press statement.
"Thailand is a Buddhist country; believing in Falun Gong does not conflict with this," said Dai Ying, one of the eight who flew to Norway earlier today. "I hope the Thai government can realize the truth about the goodness of Falun Gong. I do not want to see things like these--violent arrests and detention--happening again."
Human Rights Commission Investigation
The National Human Rights Commission of Thailand (NHRCT) appears to be of the same mind as Dai, at least in terms preventing such arrests. Earlier this month, the Commission dedicated its Fourth Subcommittee to investigating the forceful capture and detention of the refugees, interviewing them on January 4.
According the Panich, the NHRCT will be investigating the arrests with reference to the Thai Constitution of 1997, the International Covenant on Civil and Political Rights, and the International Convention on the Elimination of All Forms of Racial Discrimination. "The investigation will continue even though they [the detained refugees] are no longer in Thailand, because such protests may happen again," he said.
The two Falun Gong detainees who had their visas cancelled as a result of the arrests are also reportedly continuing their appeal to Thai Immigration.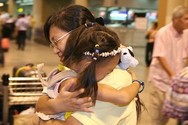 TOGETHER AT LAST: Miao Miao and her 6-year-old daughter Hua Yuchen share a touching moment at Don Muang International Airport in Bangkok on January 23, 2006. They were separated after Miao was imprisoned at the Bangkok Immigration Detension Centre following an arrest that many believe was illegal. They flew to asylum in Norway early morning on the 24th. (The Epoch Times)
Mixed Feelings
All of the Norway-bound refugees expressed their disappointment in their treatment at the hands of Thai authorities, in brief interviews at Bangkok's Don Muang airport prior to their departure. However, they also expressed their delight at Norway stepping up to help them at a time of need. The UNHCR had reportedly been under pressure from the Thai government to resettle them as quickly as possible, though officials neither confirmed nor denied this claim.
"Hereby we want to thank Norway for the acceptance [of us], and the support of UNHCR. With their efforts the problem is getting settled in the short term," said Li Jianhui, one of the detainees. Li also expressed a wish that Thailand would soon "take a stand on Falun Gong's side," to rectify the wrongful arrests more completely.
Fourteen-year-old Wang Anqi, who spent only four months in Thailand before her parents were arrested, said she was thrilled to be going to Norway and to be reunited with her parents, but had mixed feelings about leaving. "I feel so sad as one of the three young victims of communism that we are being expelled from a country where people are free to practise their beliefs. In the past five months, the Thai people's graciousness has really impressed me," she said.
Last week Hua Feng, whose wife was one of the detained refugees, had been shocked to discover that their four-year-daughter was expected to return to the detention centre prior to their flight. Since her father had been away at the time of the arrests, she had spent a week in detention with her mother. "This was totally unacceptable to me," said Hua. Thai authorities eventually relented and allowed father and daughter to travel together directly to the airport. "I am very pleased they [Thai authorities] made this one correct decision, after making so many wrong ones," he said. "This is good for Thailand."
http://english.epochtimes.com/news/6-1-24/37321.html
You are welcome to print and circulate all articles published on Clearharmony and their content, but please quote the source.