It is almost two months since Falun Gong practitioners of London in the UK began to expose the persecution of Falun Gong in Downing Street, the official residence of the Prime Minister.
Between 2:00pm and 6:00pm, Monday to Friday, there are large numbers of people going home after work and tourists, but many practitioners in London are still at work and unable to participate in the activity. Thus, those practitioners who have taken part in it are almost all retired, elderly people and mothers who do not need to work and just take care of their babies. During the protest, these practitioners have encountered crowds of staff working in departments of the Government in the region and many other office workers coming and going obtain leaflets about Falun Gong, see practitioners demonstrating peaceful and relaxed Falun Gong exercises and see a picture exhibition in miniature opposite the official residence of the Prime Minister.
| | |
| --- | --- |
| | |
| People learning the truth | The evilness of the Chinese Communist Party shocks people |
| | |
| The evilness of the CCP shocks people | Signing the petition condemning the persecution by the CCP and supporting Falun Gong |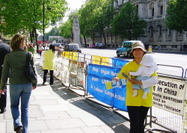 Falun Gong practitioners expose the truth in all weather
The picture exhibition exposed how the CCP is persecuting kind Falun Gong practitioners, in some cases removing organs from live Falun Gong practitioners for profit and then cremating their bodies to eliminate the evidence. The CCP evilness has shocked people. Beyond the shock, people are thinking. Many of them have signed the petition expressing their support for Falun Gong practitioners with morality and justice and condemning the atrocities of the CCP. Those who have signed the petition are administrative personnel, military officers, barristers, doctors, professors and students, tourists from all countries and China as well.

Many people asked practitioners: "What can I do for you?" After signing the petition, an English lady asked: "What can I do for you? Will you please give me two more petition forms?" Two days later, she brought back the petition forms full of signatures. Another western lady came two or three time in a day with an intention of telling practitioners the telephone number and the way of contact of a TV programme host she knows, hoping that the fact of the persecution would be played in a programme so that many people would hear about it.
You are welcome to print and circulate all articles published on Clearharmony and their content, but please quote the source.