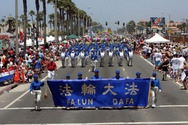 Falun Gong practitioners participate in the largest Western US parade on Independence Day
On July 4th, 2006, Huntington Beach in Southern California held its 102nd Independence Day Parade. The famous parade is the largest on the west of the Mississippi River. The theme of this year's parade was "Freedom for All", and more than 300 groups participated. Approximately 250,000 spectators watched along the parade route and at least three million watched it on TV.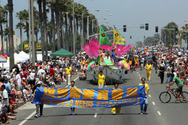 Falun Gong practitioners participate in the largest Western US parade on Independence Day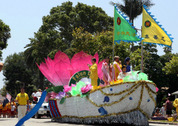 Float in ship form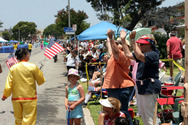 Two spectators imitate the hand gestures of practitioners doing an exercise demonstration on the float
The parade was held on Pacific Coast Highway and Main Street. The procession included floats, bands, veterans, and various performances. The parade route was 4 miles long and lasted more than three hours. The parade started at 10 a.m. Many people started to wait along the route at 6 a.m. and crowds were lined up before 9 a.m.
Falun Gong practitioners participated in the parade for the third year. This year, the Falun Gong's procession included a marching band, martial arts team, dance team and float. It was one the largest groups in the parade and was the only one consisting of mainly Chinese people.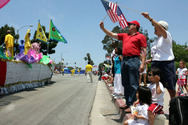 Warm audience
San Francisco's Falun Gong "Divine Land Marching Band" participated in the Independence Day parade for the first time. They played, "America the Beautiful" and "Falun Dafa is good". Their excellent order was very eye-catching. The audience applauded and waved their hands, and some started to dance accompanying the music. Some took photos and videos.
The martial arts team was composed of more than 20 Falun Gong practitioners from southern California demonstrating traditional Chinese culture. There were also a few western practitioners on the team.
Celestial maidens and a beautiful float demonstrated the grace of "Truth-Compassion-Tolerance." The end of the float in ship form was decorated with huge pink lotus. On the head of the float were banners reading "Falun Dafa" and "Truth-Compassion-Tolerance", fluttering in the wind. Several practitioners demonstrated the five sets of exercises on the float.
Many people exclaimed, "Wonderful!" Some spectators had photos taken with the float in the background when the float stopped during the procession.
You are welcome to print and circulate all articles published on Clearharmony and their content, but please quote the source.