Falun Gong practitioners held a day long vigil to mark seven years since the start of the persecution of Falun Gong at the Chinese Embassy on Jannowitz Bridge, Berlin. Although temperatures reached up to 34 degrees centigrade, all day long practitioners arrived to protest against the persecution, which has lasted for seven years. In order to allow every practitioner to go to work, as well as give them a chance to participate, we scheduled the activities from 8am to 9pm.
Many people passing by accepted flyers with information about the organ removals from live Falun Gong practitioners in China. We also met many people who told us that they already knew about it. There have been practitioners protesting in front of the Chinese Embassy almost as long as the persecution has lasted. During the last few years, practitioners have been coming to the Jannowitz Bridge almost daily. It is easy to understand why many people who live or work close by would be well informed about the persecution.
Although the staff at the Embassy tried numerous times using police intervention to force us to abandon our protest at the largest Embassy in Europe (once we even had to appear in court), we never gave up. The Embassy staff is even monitoring closely our adherence to the time limits stated on our official permits and they call the police whenever we stay longer. In spite of everything, Falun Gong is a righteous way and we will therefore maintain our justified peaceful vigil at the Embassy until the end of the persecution.
In the morning, one young lady from a Berlin radio station came to interview two Falun Gong practitioners. She asked detailed questions about why we practice Falun Gong and why we participate in protest activities. Perhaps she will tell her young listeners about our activities to let more people learn about the protests. It is the hope of all Berlin Falun Gong practitioners that we will not have to repeat the same protest at the Chinese Embassy on July the 20th next year. We hope that the brutal persecution will be over by that time because even seven years are too long already.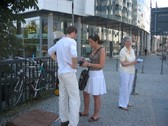 Informing Berliners about the persecution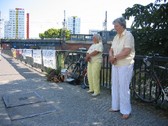 Silent protest in front of the Chinese Embassy
You are welcome to print and circulate all articles published on Clearharmony and their content, but please quote the source.