It is unbelievable and horrific that in this day and age such atrocities are happening in China.
I'm talking about the killing and organ harvesting of prisoners of conscience – transplantation of their corneas, kidneys, liver and hearts.
It's like the holocaust all over again, only in China there is big money in the killings with a booming trade in transplants.
Why are we and the rest of the world still trading with this country?
I believe every word of the terrifying story told to me by Zhen, a tiny Chinese grandmother, who has escaped. That's why I am adding my name to the online petition calling for investigations into organ harvesting in China at http://petition.fofg.org.uk/organharvesting/
Like Anne Frank, Zhen hid for five fearful years, because she practices a form of slow exercise and meditation called Falun Gong.
The communist regime outlawed this non-political practice in 1999, because it had more than 100 million followers. The new Buddhist tai chi-like movement had swept China from 1992 and it was encouraged by the authorities because of its self-discipline and healthy approach - practitioners do not smoke, drink and have a rigorous moral code.
But then the regime became fearful that Falun Gong could become an organised force and began a ruthless crackdown.
Zhen was locked up in a reform house where she says she was beaten, force fed and her captors tried to brainwash her.
There are millions who cannot escape the atrocities, featured recently on Channel 4 news, when ex-Canadian Cabinet Minister, David Kilgour released an investigative report into the allegations of organ harvesting from live Falun Gong practitioners in China.
He, and international rights lawyers, David Matas conclude: "We have come to the regrettable conclusion that the allegations are true. We believe that there has been and continues today to be large-scale organ seizures from unwilling Falun Gong practitioners."
"Their vital organs, including hearts, kidneys, livers and corneas, were virtually simultaneously seized for sale at high prices, sometimes to foreigners, who normally face long waits for voluntary donations of such organs in their home countries."
Professor Stephen Wigmore, chairman of the Ethics Committee of the British Transplantation Society, referring to "really incontrovertible" evidence in April, condemned organ harvesting in China as an "unacceptable" human rights violation and called on the United Nations and World Health Organisation to investigate.
Zhen tells me how Falun Gong improved her health. But when the Chinese regime banned it, her home was raided every two or three days by the police, confiscating any literature on the practice.
She says: "Because I peacefully appealed for Falun Gong, I was locked up in a reform house for nearly one month during which time I was beaten up and force fed. I had only been release a few days when I was told that I had been secretly sentenced and the police would arrest me imminently."
Two hours before the police came, she and her husband left their home and went into hiding.
Zhen dug a hole in the wall of a friend's abandoned house to crawl through. To hide them, she put a shoe rack over the hole and then placed shoes outside. The hole led to an inner room. It was here the old couple lived like prisoners, hiding, never sleeping on a bed, only the floor, flushing the toilet only once a day in the middle of the night, gathering water drop by drop. She said: "Windows remained closed no matter how hot it was. There was no heating in the winter. Sleeping on the floor in sub-20 degree weather. I could only bury my head in the blanket and gather the tiny bit of warmth from my own breath. I never turned on a light either. "
To make her give in, her pension payments were stopped, her son was forced to resign his job and Zhen and her husband, having spent all their savings, struggled to survive.
Zhen changed her appearance to escape the police and distributed leaflets so that people would know the truth of Falun Gong.
She says: "From my local group, some practitioners were killed by the Communist regimes while others were arrested. There are a huge number of practitioners who wander about homeless to escape imprisonment. For those who are eventually captured it is impossible for their family to know their whereabouts." "Today I am lucky to be able to stay in England. I will do everything I can to support the practitioners in China. The reason I am on this tour is so more people can learn about what is happening in China. I firmly believe that the persecution will end when more and more people learn about the truth." Zhen left me in tears with " Please save those innocent Falun Gong practitioners who are being persecuted in China."
Edward McMillan –Scott, Conservative MEP for Yorkshire and Humber and a vice-president of the European parliament, has revisited China to find out for himself.
After returning he said: "Organs from prisoners are literally being marketed, with the waiting time for a transplant often now being a matter of days. Nearly 400 hospitals in China share the booming trade in transplants with websites advertising new kidneys for $60,000."
"Administrators tell inquirers: "Yes, it will be a Falun Gong, so it will be clean.""
Mr McMillan-Scott has demanded an urgent meeting with the Chinese Ambassador to the EU.
Quite rightly he says: "If people in Beijing think this is the way to prepare for the Olympics, they have made the wrong call."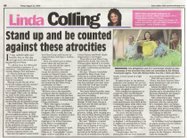 Meditating: This delegationis part of a countrywide mission to raise awareness of the atrocities they claim are committed by the Chinese Communist regime
You are welcome to print and circulate all articles published on Clearharmony and their content, but please quote the source.