The seventh Asian "Safety and Health Fair" sponsored by the Dallas Police Department Community Affairs Office was held from 10:00 a.m. to 2:00 p.m. on October 7th, 2006, at the square of the Hong Kong Supermarket, the largest Chinese supermarket in the Dallas area. Local Falun Gong practitioners were invited to participate in the fair and demonstrated the Falun Gong exercises. Several practitioners also performed a graceful dance, winning warm applause from the audience.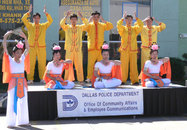 Falun Gong practitioners demonstrate the exercises during the Safety and Health Fair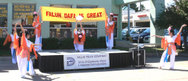 Final scene of the dance "Flower Deities"--a banner reading "Falun Dafa is Great" is unfolded
The sponsor of the Safety and Health Fair was deeply impressed by the Falun Gong practitioners' exercise demonstration and dance performance "Flower Deities" performed at an international cultural festival last year in the City of Garland. She said at the time that the practitioners' dance was unique and refreshing, and very impressive. This year, the theme of the event was health, and she invited Falun Gong practitioners to take part in and help people learn about the benefits of Falun Gong.
Seven practitioners in their brightly coloured white and orange dance costumes stood out at the fair. They gave a dance performance "Flower Deities," composed by Falun Gong practitioners, which expresses how the lotus flower emerges from dirty mud untainted. This attracted the attention of those at the fair.
Practitioners in bright golden exercises suits and dancing practitioners performed the smooth, graceful Falun Gong exercises. Many people happily took fliers and beautifully-folded elegant lotus flowers from practitioners. Some also had a photo taken with practitioners.
You are welcome to print and circulate all articles published on Clearharmony and their content, but please quote the source.