On November 28th, 2006, at a routine public hearing held at the French Premier's office building, the French National Human Rights Advisory Committee (the Commission Nationale Consultative des Droits de l'Homme)invited the two Canadian independent investigators, Mr. David Kilgour and Mr. David Matas, to testify about the crimes of the Chinese Communist Party's (CCP) harvesting organs from living Falun Gong practitioners. After the hearing, the two Canadian investigators held a press conference at the law office of lawyer Mr. Orlandi to inform the media about their investigation and the public hearing at the French National Human Rights Advisory Committee. A reporter from the renowned radio station "French Info", a division of Radio France, conducted an on site news report and the next day, they presented a broadcast of the interviews for the whole day: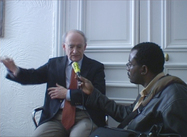 A reporter from radio station "French Info" interviews David Matas
This is a report which came to a shocking conclusion. There might be an enormous trade of organs taken from executed prisoners in China, or from Falun Gong practitioners. This kind of trade is an industry which has huge profit for both the Chinese government and those doctors who are hell bent on doing it. This was said by two outstanding Canadian lawyers David Matas and David Kilgour, who are the authors of this report. Yesterday, while they were in France, they presented their statement to the French National Human Rights Advisory Committee (the Commission Nationale Consultative des Droits de l'Homme)
Radio presenter: Under the name of potential organ transplant clients, these two lawyers collected many testimonies. They revealed, many Falun Gong practitioners' organs were harvested, as well as some executed prisoners, which then were replanted in some rich Chinese or Western patients. One kidney costs sixty thousands dollars, a liver costs one hundred thousands dollars. One of the authors, Mr. David Matas said, "Every year, there are about ten or eleven thousand organ transplant operations. A proportion of two thirds or more clients among them are westerners who go to China to buy the organs."
Some people use professional websites to organise a "medical treatment tour". These websites recommend kidney, cornea, liver and heart transplants. The chairwoman of Action for Human Rights Association (ADH) - Ms. Marie-Francois Lamperti said, "The information is spread over the internet, especially during the Chinese New Year period which has the highest number of executed people". Some people will tell you, "Do not wait too long", "Come to us first", "We can transplant the organs for you at a certain price", and so on and so forth.
These organs are supposed to be found within one week, as to those two authors of the report, such a short time means as people can imagine that those prisoners with a death penalty and Falun Gong practitioners who are detained in the labour camps are murdered according to the orders' requirements. One of the authors, Mr. David Kilgour said, "I felt that it was very strange, if for the purpose of matching the required kidney, they would kill one person every three or four days. It then means thousands of people have died, which is a crime against humanity. A government kills its own citizens and then sells their organs, it is absolutely appalling."
The Chinese authority denies this news. At the same time, they were rushing to reform its relevant law before the publication of this investigation report. But for these two investigators, it proves the existence of genocide. Under these circumstances, the death penalty is not a punishment anymore. He analysed, it has become an income resource for the Chinese government. Because they have this kind of organ trading the more people they kill, the more money they can earn.
You are welcome to print and circulate all articles published on Clearharmony and their content, but please quote the source.