On April 1st, 2007, the Global Service Centre for Quitting the CCP in Japan, The Epoch Times, New Tang Dynasty TV, and Sound of Hope radio station jointly held activities to support the twenty million brave people who have quit the CCP and its affiliated organisations. A rally, speeches and a large scale parade were held on the busy streets of Tokyo, including five major areas, Tokyo Station, Akihabara, Ginza and Ikebukuro Station.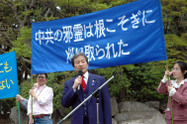 Tokyo Parliament MP Koga said that quitting the CCP was very significant and it needs everyone's effort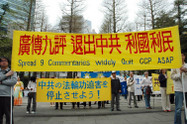 Rally in a park in Ikebukuro, Tokyo
Speeches were given in Tokyo Station, shopping district Ginza and electronics street Akihabara. A rally was held in a park close to Ikebukuro Station in the afternoon. Many VIPs gave speeches, including an MP of the Tokyo Parliament, a human right activist, Chinese writers and senior scholars who had escaped from China.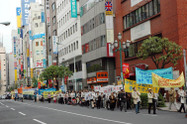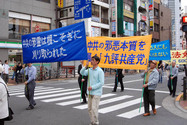 The two-hour parade went through the city starting from Ikebukuro and ending in Takadanobaba

Local residents support quitting the CCP - They said, "It is a great thing!"
Supporters held a two-hour-long parade through Ikebukuro and Shinjuku-ku. The parade started from Ikebukuro and ended in Takadanobaba with a waist-drum troupe leading the parade and a fairy dance troupe at the end of the procession. Many local residents stopped to watch. Some Chinese tourists were happy to see the open condemnation of the CCP, and some quit the CCP on the spot.
You are welcome to print and circulate all articles published on Clearharmony and their content, but please quote the source.