In the afternoon of June 14th, Falun Gong practitioners participated in the 29th Police Day Celebration held by Pingtong Country Police Department. The celebration started with Tianwei Tang Drum Troupe performing the song "Falun Dafa is Good."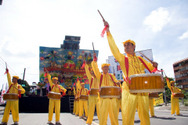 Tianwei Tang Drum Troupe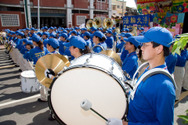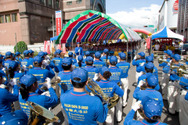 Divine Land Marching Band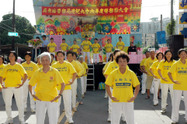 Falun Gong exercise demonstration
The audience was thrilled when they watched the performance of the practitioners' Divine Land Marching Band. Many people said that the band was exciting and refreshing. Practitioners were also invited to demonstrate the Falun Gong exercises.
Practitioner Ms Li said: "Ordered by the Chinese Communist Party, police in Mainland China are persecuting Falun Gong. In contrast, Taiwan police today invites us to celebrate their holiday together. What a difference. If more people discipline themselves with the Truthfulness-Compassion-Forbearance principles to be good people, the crime rate will drop. Eventually, there will not be a need to use laws to discipline them."
Director of the Pingtong Police Department said: "By inviting Falun Gong to demonstrate their peaceful exercises, we hope our fellows will also strive to follow such lofty principles to temper their xinxing [moral character] in order to better service the public."
You are welcome to print and circulate all articles published on Clearharmony and their content, but please quote the source.