Falun Dafa spread to Taiwan in 1995, and there are now more than 500,000 Taiwanese practitioners. The practitioners have set up about 1,000 exercise sites in every town and city all over Taiwan. On July 21st, 2007, the hottest day in the history of Taipei, about 1,000 Falun Gong practitioners held a parade in Yonghe District, calling for an end to the eight-year-long persecution.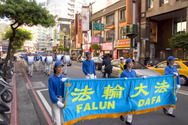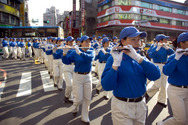 The Divine Land Marching Band
The activity started at 4:00 p.m. About 500 practitioners demonstrated the exercises at 8.23 Memorial Plaza. Another 1,200 practitioners participated in the parade. The Divine Land Marching Band, consisting of 250 practitioners, led the procession. They performed "Falun Dafa is Good," and "Fa Drums Shake the Universe." Many people were attracted to and watched the parade, since it was the first Falun Gong parade held in Yonghe District.
Many people condemned the persecution. An older gentleman said that people have to live in a world of lies if no one dares to tell the truth, so he admires Falun Gong practitioners. He is also interested in learning to practise.
Mr. Ye learned about Falun Gong and the persecution in America, where he went to graduate school. He supports practitioners. He believes that the Chinese Communist Party is in a state of crisis because of the millions of withdrawals from the Party. He hopes that Falun Gong practitioners will keep fighting for human rights.
Ms. Chen, a practitioner, told the reporter that she had brought 500 copies of materials to the parade, but she passed out all of them before reaching the end of the parade. She said almost everyone along the route accepted the materials.
A businessman said that he is concerned about the persecution. He knew about the recent violent deportation in Hong Kong and said that the persecution must stop now.
A reporter from a prominent media in Taiwan watched the parade. He said that he would post the information about the persecution on his blog so that more people can learn about it.
Ms. Wu of Sanchung said that 14 members of her family practise Falun Gong and the youngest one is only 5 years old. She said that they all attended the parade. Her father-in-law started practising first and his diseases were healed. Amazed by the miracle, other members of the family also started practising.
Ms. Peng of Chungli went to the parade with her daughters. She said that her whole family benefited from practising Falun Gong, so they all went to the parade, to contribute to the activity.
You are welcome to print and circulate all articles published on Clearharmony and their content, but please quote the source.