On September 3rd, Falun Gong practitioners from Chicago participated in the Labor Day Parade in Naperville, a small city west of Chicago. The theme of the parade was "The Wonderful World of Sports." This was the 42nd Labor Day parade held in Naperville. Local TV stations and thousands of people lined the streets to watch the parade. In recent years, Fortune magazine has ranked this small city among the top three of the best cities in the US in which to live. Many Chinese Americans also live here.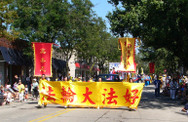 Falun Gong practitioners participate in the Labor Day parade in Naperville, Illinois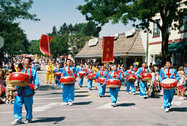 Tang Drum performance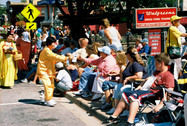 Distributing flyers to spectators
The Falun Gong group has participated in the parade for several years. This year the weather was very good. Instead of the rains of the two previous years, it was a bright sunny day with pleasant temperatures. A large banner reading "Falun Dafa" led the procession, followed by a decorated float and a Tang Drum performance. On both sides of the street, a few practitioners passed out flyers to the spectators. Many people asked for the handouts and learned the truth of the persecution of Falun Gong in China. The spectators waved and clapped along when the practitioners performed "Falun Dafa Is Good."
A Chinese delegation of about 20 people watched the parade and luckily saw the Falun Gong performance. Seeing such a beautiful exercise demonstration and the group's powerful and majestic performances, those in the Chinese delegation appeared a little surprised. They saw the stark contrast of this peace and beauty even as the practice is persecuted in China.
This small city has also built a good relations with Falun Dafa in recent years. Many new practitioners started cultivating here, and a lot more Chinese have chosen their futures by announcing their withdrawals from the Chinese Communist Party and all its affiliated organsations.
You are welcome to print and circulate all articles published on Clearharmony and their content, but please quote the source.