When Shen Yun was to begin the first performance in its 2008 European tour, the European Parliament organised in its member's salon a Shen Yun European Tour VIP reception.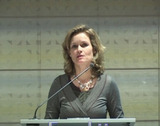 Vice President of the European Parliament's Culture and Education Committee & Member of the EU delegation to China, Helga Trpel
The VIP reception was hosted by the Vice President of the European Parliament's Culture and Education Committee & member of EU delegation to China Helga Trpel. In her speech, she said, "China is a beautiful country with outstanding tradition, its 5000 years culture is well established and rich in variety, as you have seen from the extracts from the Shen Yun Spectacular. But we also see that China's pollution of the environment and its human rights problems are still very serious. Its persecution of dissidents has steadily increased. This cannot be accepted whatsoever". She continued, "We very much appreciate this country's culture and tradition and are very willing to make friend with them. But the preconditions in China must abide by its pledge to improve human rights".
Spokesman Mr Howensen for the NTDTV Belgium, one of the sponsors of Shen Yun performance in Belgium, said in his speech, Today Shen Yun Performing Arts Group will start its first European performance as part of its world tour and will perform in over ten European cities afterwards. When Western people's understanding about Chinese culture stops at the dragon and lion dances and acrobatics, the arrival of the Shen Yun Performing Arts Group would let the people see China's core value of the true traditional culture".
Over sixty European Parliament politicians and representatives from NGOs attended this VIP reception. They expressed their great desire to see the performance of the Shen Yun Performing Arts Group.
You are welcome to print and circulate all articles published on Clearharmony and their content, but please quote the source.