When interviewed at the international conference entitled "Beijing Olympics 2008: Winning Press Freedom," Guo Guoting, a renowned human rights lawyer who fled to Canada to escape the Chinese Communist regime's persecution, talked about human right lawyers' difficult situation in China under the Chinese regime's atrocities. He mentioned that the Chinese human right lawyers who step forward to defend Falun Gong practitioners for their basic human rights would definitely be persecuted by the regime.
Co-sponsored by the World Association of Newspapers (WAN), Committee to Protect Journalists (CPJ), Reporters Without Borders, World Press Freedom Committee (WPFC), Human Rights in China (HRIC), Asian Journalist Association in France and the Knight Foundation, the conference of "Beijing Olympics 2008: Winning Press Freedom" was held in France from April 18th to the 19th 2008. The conference was intended to raise the consciousness of the journalistic community, especially sports journalists and the press freedom conditions they should expect to encounter in China. Mr. Guo was invited to the conference and gave a key note speech.


Human right lawyer Guo Guoting speaks at the conference "Beijing Olympics 2008: Winning Press Freedom"
Guo Guoting was the first one to defend Falun Gong practitioners among the 120,000 lawyers in China. As the Chinese regime is so atrocious and regards Falun Gong as its primary threat that it would be easy foe one to imagine how tremendous the difficulties he encountered were. Eventually, he was forced to leave China. According to an article entitled "RFA: Guo Guoting introduced his experience in his defence of Falun Gong practitioners" published on June 19th, 2005, there are four reasons for Guo to defend Falun Gong practitioners at the risk of losing his own life: First, he felt that Falun Gong practitioners were treated exceptionally unfairly and illegally; second, the persecution is a national disaster; third, he approves of Falun Gong's belief Guo Guoting is not a Falun Gong practitioners, but out of the sense of responsibility for a lawyer, he read all of the teachings written by Falun Gong's founder Mr. Li Hongzhi, as he believes in the principles of Truthfulness, Compassion by nature; there was no one to do Falun Gong justice or defend Falun Gong, which is similar to the situation when Hitler was persecuting Jews. He also thought that if nobody dares to say anything about the persecution, then everybody would be persecuted.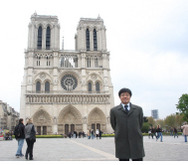 Lawyer Mr. Guo Guoting poses in front of Les Invalides
In an interview, Mr. Guo talked about some of the details regarding his defending Falun Gong practitioners in China as follows:
Getting to know Falun Gong step by step
Guo Guoting said, "Regarding Falun Gong issue, I heard of Falun Gong for the first time in 1999. After the crackdown, I knew Falun Gong was a spiritual movement. However I didn't understand Falun Gong and had no idea about what Falun Gong really was. About one year later, in January of 2000 or 2001, I saw a newspaper called "Civilian Trust Newspaper" with two articles criticising Falun Gong. One article was called "Tens of thousand people criticising Falun Gong", and the other was about the issue of organising one-week Falun Gong study classes, in which Falun Gong practitioners were forced to study in Liaoning Province. After reading this newspaper, I felt very bad about this approach. Falun Gong practitioners should have their free will. It was no point that the authorities have the right to force them to learn, which means the loss of freedom and learning in while in prison."
"In addition, "Tens of thousand people criticising Falun Gong", in fact, is similar to a series of political movements in the history of China, especially in the history of the Chinese Communist Regime. This leaning to one side approach organised people of blindness who lacked understanding of Falun Gong to criticise Falun Gong under CCP's plan. Therefore, I think it was very ridiculous that they made the commentary by the way of keeping diaries. In fact, it was another Culture Revolution again. As for the predominant criticisms against Falun Gong that I heard and saw from the newspapers, I basically didn't take a look at them or simply look at the titles. I didn't want to look into the details because I didn't believe in the things done by CCP. I always deny CCP's large-scale criticism movements and mass movements, as well as their content and authenticity. Thus, I didn't care about such things. This is my understanding of Falun Gong in the early stage."
"The second phase of the understanding began from January 2003 when I started the public defence of Falun Gong on the Internet. Many articles that I published on Internet could only survive less than 24 hours or one or two days. But there were numerous replies posted and the click rates were particularly high. Many people were concerned about this issue and many people showed their support. Therefore the Internet network management desperately eliminated and restrained them."
"I truly understood Falun Gong when I began as an advocate in defence of Falun Gong practitioners and started to systematically understand Falun Gong. I remember it started with the second case… Because of this case, I had a more in depth understanding of Falun Gong's background. At that time, it mainly came from searching information and data on the Internet since I could break through their Internet blocks which were all invalid to me. I mainly used dynamic network and free door to access various websites freely. This systematic understanding of Falun Gong enabled me to know what Falun Gong really is in the end. In general, I had more sympathy for and better understanding of Falun Gong."
Guo Guoting also said, "As far as I know, I was the first advocate in defence of Falun Gong since I started the defense of Falun Gong early in 2003 with focus on the theory of law. In my point of view, Falun Gong, as a kind of belief, even assumed as a religion, should be granted the legal right of freedom according to the regulations of law. It can completely exercise the right of freedom of a belief - the inalienable fundamental right."
"At that time, my defence of Falun Gong was mainly from the legal perspective, a legal right. Later, with more understanding of Falun Gong, I completely ruled out the CCP's false arguments imposed on Falun Gong, including many slanderous, defamatory, discrediting things. I believe that Falun Gong as a spiritual movement is in fact only beneficial to China with no harm. First, it raises people's moral standard. Secondly, it improves people's physical health. What is wrong with the healthy body and mind of the practitioners? Only benefits, no harm. I personally much admire the spirit of perseverance and resistance of Falun Gong practitioners, which is really needed. China really lacks this spirit."
The police lied to the lawyer defending Falun Gong practitioners

The first time Guo Guoting defended Falun Gong was about a missing Falun Gong practitioner who stayed in the dormitory of the Shanghai Tongji University. Mr. Guo recalled, "After staying at the dormitory of the Tongji University for about a month, the student suddenly disappeared. His elderly brother asked me to help look for his younger brother. Though agents of the public security and national security departments were looking for me, I still asked them to help me look for this missing Falun Gong practitioner. They did help me to some extent, but they didn't know his whereabouts either. I thus went to the Tilanqiao Prison and the Tongji University dormitory he once stayed and the local police precinct to get better understanding of his situation. I could not find any clues about the missing practitioner, even in the Tilanqiao Prison. Though there were three prisoners by the name of Huang Xiong, their birth dates and birthplaces are different from those of the missing practitioner."
"The last place I wanted to check out was the police station. But the chief of the police station tried to avoid me, and asked his secretary to lie to me by saying that he would be away from the police station for three-month training. But when I wanted to see him three months later, it turned out that he openly said that he refused to see me. In fact, he had been interviewed by overseas reporters and said that he did know the whereabouts of Huang Xiong, but he denied it after lawyers intervened in the case. He simply tried to get rid of me by saying that he would be out of town to attend a seminar, as I am a lawyer. I wondered if he was still in Shanghai, since it was unusual for a police station chief to be out of town to attend a training programme for three months. And what's more doubtful was that he was away when I was going to probe into the case. Furthermore, when I tried to see him three months later, he still refused to see me. Apparently, he was following the orders given by his superiors. To date, nobody knows Huang Xiong's whereabouts, though it's been so many years since he disappeared.
The Chinese regime sentenced Falun Gong practitioners arbitrarily
The second Falun Gong practitioner Guo had defended was Mr. Qi Yanglai who graduated from the Shanghai Jiao Tong University. Guo Guoting said, "He was arrested because he downloaded Falun Gong information including articles from the Internet and edited it for others to produce CDs. He was caught when distributing the CDs and was sentenced to five years in prison. When I got involved with this case, the sentence had come into effect (According to Chinese laws, cases that have become effective cannot be appealed, but they can be reviewed). I thus planned to apply for a review of the case. Based on my research, his act has not constituted a crime. As he was absolutely innocent, I thus planned to apply for a review and would like to defend the case.
The Chinese regime tried to cover up the persecution of Chen Guanghui
Among the cases defended by Guo Guoting, the murder case of Falun Gong practitioners Chen Guanghui is one of the numerous cases that the Chinese Communist regime abused its judicial system to persecute Falun Gong. Guo said, "In fact, I didn't defend many Falun Gong practitioners in Shanghai. Among the six Falun Gong practitioners I defended, at first, I didn't see any of them. After my repeated applications, Chen Guanghui was the only Falun Gong defendant I have ever met when I was practicing law in China. But when I saw him, he was beaten to the state of coma in Su Zhou Hospital and couldn't speak and didn't know my presence. Moreover, I was forced to leave his ward by plainclothes police officers after I was there for two or three minutes.
"He was under intensive surveillance around the clock until he died. There were about four or five patients in that ward. I didn't say whom I wanted to visit, and I pretended to see another patient so as to approach Chen Guanghui. I mainly wanted to check out the wounds on the two sides of his head. I found that the two sides of his head were dented due to comminuted fracture. Since the fractured bones had been taken away, the surface of his head was not smooth whatsoever. But I was forced to leave the ward after taking a look at his situation. Apparently he was beaten into this situation. According to my observation, it was very likely that he was held by his hair and was smashed into a wall."
"Public security officers explained that Chen committed suicide himself by smashing the left side of his head into a wall, and the right side of his head suffered comminuted fracture because of his falling down to the ground. As a matter of fact, it is impossible to be so. From the perspective of medical science, committing suicide would not lead to this kind of situation. Generally speaking, committing suicide by smashing into a wall should result in injuries of the forehead, because only smashing the forehead into a wall can the momentum be powerful enough to kill him. It is absolutely impossible to suffer comminuted fracture on both sides of the head at the same time. If he had committed suicide, the public security department would not have dispatched eight police officers to monitor him around the clock and prevented him from contacting anyone else for a long period of time. The number of security officers assigned to monitor him was finally reduced to two until he was diagnosed that he would never recover from the coma three months later, and those two policemen monitored him until he passed away in the hospital in July 2007, after he was hospitalised for over two years."
"As to another Falun Gong case I defended in China, my certificate to practice law was revoked before I met the defendant or appeared in court to defend the case. As I was persecuted by the Chinese regime and lost my lawyer credential, I was forced to leave China eventually. As a result, I didn't appear in court to defend Falun Gong practitioners in person, and instead, I mainly wrote articles to defend them."
All the lawyers defending Falun Gong practitioners were persecuted by the Chinese Communist regime"When I was in China", said Guo, "There were about 120,000 lawyers, but the number of human rights lawyers was only about ten in the past. Today there are about fifteen human right lawyers and all of those who defended Falun Gong practitioners have been persecuted by the Chinese regime. Among them, two are incarcerated and two are sentenced, while two others are subjected to re-education in a forced labour camp. I was actually expatriated overseas and two others were forcibly dismissed from the law firms they worked with.
"Take Mr.Gao Zhisheng for instance. He was sentenced and his case is the most striking one. Another case worth mentioning is the one regarding Mr. Guo Feixiong. Though he is not a professional lawyer, he graduated from law school and is a human right activist. Practically, he is a human right lawyer as he also defended Falun Gong practitioners. As to those incarcerated in forced labour camps, Mr. Liu Ruping was a lawyer in Shandong province, and Mr. Zhu Yubiao used to practice law in Guangtong province. They were sent to forced labour camps due to defending Falun Gong practitioners. Mr. Liu and Mr. Zhu seemed to be reeducated in forced labour camps for one and half years and two years respectively, but I don't know their current situations whatsoever. When they were sent to the forced labour camps, we did openly express our concerns about their situations and supported them."
"The two lawyers who were forcibly dismissed are Mr. Yang Zaixin in Guangxi province and Mr. Zhang Jiankang in Xian city. This is the general situation I know."
Mr. Guo added, "It is not that lawyers in China are unwilling to defend Falun Gong practitioners, but they know that if they defend Falun Gong practitioners, they will be faced with tremendous risks. The risks are so tremendous that most lawyers dare not to defend Falun Gong followers. As a result, many lawyers practically absolutely stay away from cases involving Falun Gong adherents."
"As to the notice issued by the judicial authorities, I haven't seen it. But to my understanding, lawyers in other provinces did circulate a notice from the judicial authorities to the effect that lawyers are prohibited from getting involved with or defend Falun Gong cases. But I have never seen this kind of documents, nor have I been notified by the judicial department not to defend Falun Gong practitioners. Perhaps, they just didn't want me to know this matter, as they dared not do it openly. However, in small cities, the judicial authorities did demand that lawyers should not defend Falun Gong practitioners."
The percentage of human right lawyers in China is lower than 0.01 % due to the Chinese regime's atrocities
The human right lawyers in China add up to fifteen or so, including those who are being persecuted and whose practicing certificates were revoked. Among these human right lawyers, 80 to 90 percent are subjected to political persecution. As to those who have not been persecuted, they just keep a low profile at present. They try not to involve with Falun Gong cases in order not to offend the Chinese Communist regime, so that they are able to continue practicing law in China.
Mr. Guo further mentioned, "It is not that I have any prejudice against the Chinese regime, but their mentalities against human right lawyers are indicative of the seriousness of the regime's atrocities on one hand and the regime's stupidity on the other. In fact, what human right lawyers have done is to maintain the social stability and harmony, which is an important factor in maintaining social justice. However, it turned out that such an important factor is not allowed to exist in China and even human rights lawyers were unable to protest their own human rights. Then what does this mean? It means that there is no sound legal system in China, and it has not implemented the rule of law. Instead the Chinese regime destroyed its legal system arbitrarily. Given that, the entire society does not believe in law and people show contempt for the rule of law. As a result, the society would be unstable and citizens would not solve problems through legal proceedings. As people would resort to administrative means or stage protests and the result would be rioting, uprising and even revolution. That being the case, who should be blamed for it? Definitely, it is the Chinese regime that should be blamed, as people are forced to revolt. This is a possible situation."
You are welcome to print and circulate all articles published on Clearharmony and their content, but please quote the source.