Practitioners from at least ten states gathered in Denver over the last week to clarify the truth during the Democratic National Convention. Over 80,000 members of the press, delegates, and people from all over the nation attended the widely-publicised Convention activities.
On Sunday, practitioners had a booth in the convention Market Place at Civic Center Park in downtown Denver. Practitioners held banners and distributed flyers all over the downtown area from morning to early evening. One person came over and told a practitioner that he had just been deported from China during the Olympics for speaking out about religious persecution, including Falun Gong. People in Denver overall seemed quite sympathetic to Falun Gong and the persecution in China.
On Monday, practitioners took the opportunity to host a local parade. A large float was brought in by practitioners from Los Angeles, and members of the Divine Land Marching Band came from all over the country to participate. The parade marched around downtown for a few hours and many people were able to see it. This was the first time the Divine Land Marching Band performed in Denver, and their music could be heard resounding through the downtown core. Dozens of media interviewed practitioners and many articles were published the next day.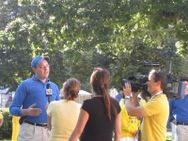 Many media wanted to learn more about the persecution of Falun Gong in China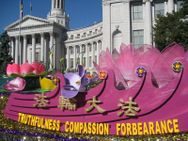 Falun Gong float in front of the Denver City and County Building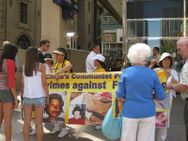 Practitioners were approached by many while holding banners and distributing flyers in front of the Denver Performing Arts Centre
You are welcome to print and circulate all articles published on Clearharmony and their content, but please quote the source.