On September 25th, 2008, Marilyn Morrison, Mayor of Caledon in Ontario, Canada, and her husband watched the second show of the Mid-Autumn Spectacular in Toronto.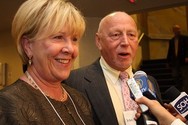 Marilyn Morrison, Mayor of Caledon, and her husband
"Everything was just beautiful."
When asked about the show, Mayor Morrison said, "Lovely, what I liked about it was how it took you through dance, music, some songs and the history. The costumes were beautiful. Everything was just beautiful. Everything ended on a positive note, even though there is repression, and some things aren't wonderful, they are still happy. Everything ended on a positive note. Very optimistic. It was just wonderful.
"What was so nice was that in the dance and the way they moved you could understand what they were talking about. You could understand their sadness and their happiness, which to me is just amazing because normally we think we have to talk.
"We liked the singing and the instrumentals. I liked the scene with the woman and the moon in the program, 'Lady of the Moon.' The erhu was just beautiful. It has a different melodic sound than what we are used to. I thought the combination of eastern and western instruments sounded beautiful together. I think we should have more of that so that we can learn from each other."
Agreeing with the principles of Truthfulness-Compassion-Forbearance
Mayor Morrison said, "You know, I think the Chinese culture is very gentle. It really intrigues me, especially being a mayor, looking at society and trying to figure out what we can do with our youth so that they are not so angry, and some of the things that are going on, shouldn't be happening.
"Our young country could learn so much from them. China has a history of 5000 years in comparison to our young country. We could learn so much.
"We have raised our family, our boys, with the principles of telling the truth, being honest, having compassion for people and helping people."
Encouraging people to watch the show
Mayor Morrison continued, "In North America we have lost some of those values and we are not living by those principles anymore. When you lose those values and you don't live that way, then you end up in a downward spiral. I think that we are going that way, and I would love to find a way to stop that."
Mayor Morrison is very busy, working seven days a week and over sixteen hours per day. She said, "I am going to write in my Mayor's column about the performance and I am going to try to educate people. I saw the dates in the brochure about the upcoming shows. I will encourage them to come in order for it to benefit more people in my community."
You are welcome to print and circulate all articles published on Clearharmony and their content, but please quote the source.