September 27th, 2008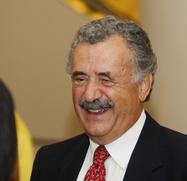 Honorable Senator Consiglio Di Nino at the Spectacular (Taili Sun)
TORONTO - "The show was very nice - beautiful actually," said Senator Consiglio Di Nino, describing the Mid-Autumn Spectacular which he attended Saturday evening at the John Bassett Theatre in Toronto.
"It starts with a beautiful rainbow of colours," the Senator said. "You are treated to this scene of different variety and it is really quite stunning, and then it sort of fuses it with some wonderful music and singing. They have made it so that it all sort of blend together to make it a very pleasant experience."
Senator Di Nino added that he found the unique show, which portrays the essence of China's 5,000-year culture, "calming other than the drummers which woke you up. I found it quite pleasant and pleasing."
The New York-based Divine Performing Arts, the performance company that presents the Spectacular, is reviving the best of China's ancient and traditional culture and portraying it through various art forms such as Chinese classical dance.
"It has been a very enjoyable experience in the sense that all the senses are involved, the visual the audio blends it all together which gives you the experience, which gives you the comparable thing," the Senator said.
Two acts, in the show, depict abuses against practitioners of Falun Gong in China and how they triumph over adversity. Falun Gong is a spiritual discipline rooted in Chinese culture that is currently being brutally suppressed by the Chinese regime.
"There is no question that the producers are trying to send a message which is one associated with the Falun Gong. This is not a problem for me as I have spoken on their behalf, and [something] which I am in support of is to have more religious freedom in China," he said.
Senator Consiglio said he did not have a particular favorite piece as "they were all very nice. The soprano - what a voice she has. I do not know where she gets that lung power, it is fantastic, so that certainly stands out. To pick one performance takes away from all the rest, the whole experience was very good."
He said he would attend next year's Mid-Autumn Spectacular, adding that the show is "an experience that others should share."
The Epoch Times is a proud sponsor of the Mid-Autumn Spectacular, playing in Toronto from September 24th-28th.
The Mid-Autumn Festival is one of China's most ancient and cherished holidays. The Spectacular expresses Chinese classical dance and showcases authentic traditional Chinese culture. Through background scenery, costumes, and choreography, the Spectacular expresses truthfulness, compassion, and pure beauty. China's history comes to life in this gorgeous performance that is entertaining, inspiring, and uplifting. The show's content is presented in both Chinese and English. For more information, visit: http://www.divineshows.com/Toronto
Source http://en.epochtimes.com/n2/arts-entertainment/rainbow-of-colours-senator-dpa-toronto-4872.html
You are welcome to print and circulate all articles published on Clearharmony and their content, but please quote the source.