The Yuanli Train Station in Miaoli County, Taiwan is located in a scenic spot and looks like a small garden from the outside. Since January 2009, passengers at the train station could see a large billboard with the words "Falun Dafa Is Good" standing opposite the train station. The large blue fonts on a yellow background are eye-catching and draw the attention of many passengers.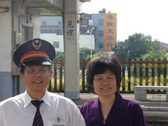 Li Dongchun (left), Deputy Head of the Yuanli Train Station in Miaoli County, and his sister Li Limei (right)
The large billboard was made by Li Dongchun, Deputy Head of the Yuanli Train Station. His sister Li Limei and sister-in-law Huang Zhongpeng are both Falun Gong practitioners. Though Li does not practice Falun Gong himself, he has seen the beauty of Falun Gong from his sister and her family. Li has been volunteering to make Falun Dafa banners, posters and other types of billboards, but they often wore out after a while. That was how he came up with his latest idea.
He used the side of his four-flat building to make a large billboard. It took him five days. Li said, "It took me one day to resurface it, one day to put concrete on it, one day to set up the scaffolding, one day to paint, and then I hired a professional to put the words on."
Initially his colleagues asked him curiously, "Why did you make that? For rent?" He explained, "No, I wanted to make this for Falun Gong." Now every day Li goes to work, he sees the wall he made and feels especially happy and a sense of achievement.
You are welcome to print and circulate all articles published on Clearharmony and their content, but please quote the source.