On May 13th 2009, Falun Gong practitioners in Berlin held an activity in the city centre to celebrate World Falun Dafa Day. They also told people the facts about the Chinese Communist regime's persecution of innocent Falun Gong practitioners. Quite a few practitioners had a similar feeling: more and more people are interested in Falun Gong (also knows as Falun Dafa).
May 13 is the tenth World Falun Dafa Day. Practitioners from Berlin, Hannover, Bielefeld, and Dresden gathered at Breitscheidplatz near the well known tourist site of Gedaechtniskirche, a church, to celebrate the day. They demonstrated the Falun Gong exercises, gave out informational materials in different languages, and collected signatures condemning the Chinese Communist regime's persecution of Falun Gong. After World War II, Gedaechtniskirche, a major part of which was destroyed during the war, became the symbol of Berlin. Because the church lies right on Berlin's busiest shopping street, the nearby square is very crowded and lively. A few long benches under the shadow of several large trees in the square are a popular place for people to sit and rest. Portrait artists, dancers, and musicians also come here to demonstrate their skills.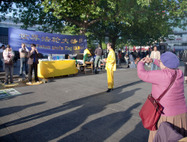 An elderly Western lady imitating the fourth Falun Gong exercise
The harmony and tranquillity that practitioners displayed as they practised the exercises with their eyes closed in the midst of all the noise and activities attracted a great deal of attention. Many people stopped to watch the exercise demonstration. Some asked where they could learn Falun Gong in Berlin.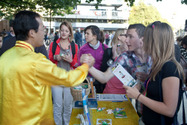 The young man shaking hands with a practitioner brought ten of his friends to learn about Falun Gong
The young man shaking hands with a practitioner in the photo walked by the Falun Gong booth just by chance. He was with two friends. They watched the exercise demonstration for a long time. By the time the activity was about to end at around 7:00 p.m., he unexpectedly returned with over ten of his friends. All of them took materials about Falun Gong and listened to the explanation from practitioners. A Chinese practitioner also taught them to say "Falun Dafa is good" in Chinese.
Two German girls also stayed at the Falun Gong booth for long time. They read nearly all the materials and took some with them, along with paper lotus flowers. Soon after, they came back to watch the Falun Gong exercise demonstration. They also came to see if they had missed any materials.
Practitioner Ms Wang met a middle-aged German gentleman. He said that he had taught German in a school in China for a short while. At that time, a female teacher suddenly stopped coming to the school. In private he heard that this teacher was a Falun Gong practitioner and that she was dismissed. But his Chinese colleagues didn't dare to discuss the matter. When he and his wife saw the Falun Gong booth in the Berlin city centre, they stopped to watch the exercise demonstration and ask practitioners about the persecution. He said worriedly, "I don't know if that teacher was also imprisoned later." After practitioners told them about the regime's organ harvesting from living Falun Gong practitioners, they immediately signed the petition urging the German government to demand the Chinese Communist regime to immediately release all Falun Gong practitioners. After signing the petition, he said, "This is very important!"
A German lady made a deep impression on practitioner Veronika because this lady wanted to know everything about Falun Gong, from what Falun Gong is to the Chinese Communist regime's persecution of the practice. Veronika said, "We talked for a long time. If she had not had another engagement, we would have talked more. She was very interested in Falun Gong."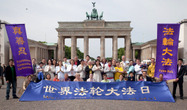 On Saturday May 9, practitioners in Berlin had a group photo taken at the renowned tourist site Brandenburger Tor, respectfully wishing Master a happy birthday and celebrating World Falun Dafa Day
On May 13 seventeen years ago, Mr Li Hongzhi started introducing Falun Gong to the public in China. Today, Falun Gong is practised in over a hundred countries around the world.
You are welcome to print and circulate all articles published on Clearharmony and their content, but please quote the source.