On June 28th, 2009, the New York Divine Land Marching Band was invited to perform at the Philippine Festival Parade in Jersey City, NJ. The festival has been a tradition in Jersey City to celebrate Independence Day for the past 19 years.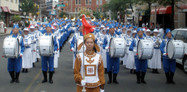 The Divine Land Marching Band played "Falun Dafa Is Good" in the parade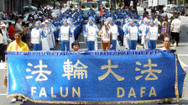 The band passing the stage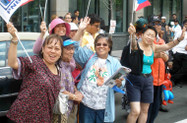 The audience cheering the Divine Land Marching Band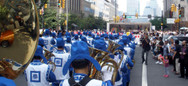 The band performs "Falun Holy King" in front of the stage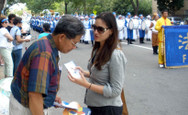 Ernesto Ganjin listens to the facts about Falun Dafa
The weather was very pleasant on the day of the festival. People from different ethnicities participated in the parade. Some sang and others danced. The Divine Land Marching Band had the most people of all the entries. The band members moved in unison and played ear-pleasing music of their own creation.
Liang was in charge of the band. He said the host was impressed with the band's performance from last year and invited it to come back this year.
The host introduced the band and said that all its members were Falun Gong practitioners. He said, "Falun Gong is a traditional cultivation practice that originated in China. It teaches the principles of Truthfulness-Compassion-Forbearance to elevate human morality. It includes five easy-to-learn exercises. The practice is welcomed in over 100 countries around the world. However, in China, the government started an unlawful persecution of the practice in 1999."
Cecilia B. Rebong is the consul general of the Philippine Consulate. She loved the band and said she knew about Falun Dafa from newspaper reports.
Corazon T. Rovera was glad to see the Divine Land Marching Band at Jersey City's Independence Day Parade, "Having the band participate is a precious experience for me. I feel honored that they could come and join the Philippines in Jersey City." Rovera said that he would definitely practice Falun Dafa in the future.
Ernesto Ganjin saw band's performance last year but did not get a chance to learn about Falun Dafa. This year he was especially happy because Cynthia, a practitioner, told him about the practice. Ganjin said, "Falun Dafa's principles of Truthfulness-Compassion-Forbearance are wonderful."
Five ladies wanted to learn Falun Dafa right after watching the band's performance. Cynthia told them about Falun Dafa's official website.
You are welcome to print and circulate all articles published on Clearharmony and their content, but please quote the source.