From November 20 to 25, 2009, the International Truthfulness-Compassion-Forbearance Art Exhibition was held at the Neden Art Gallery in downtown Ankara, the capital of Turkey. Many people came to visit it each day.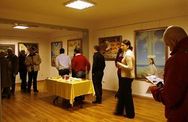 Many people come to visit the exhibition every day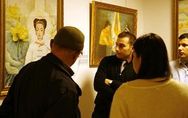 Visitors view the paintings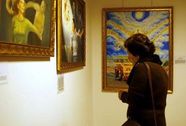 Carefully reading the explanations of the paintings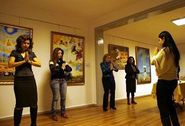 Falun Gong practitioners demonstrating the five exercises to guests at the opening
Ms. Sema Akbas, a well-known reporter from Sabah (Morning Post), one of three major newspapers in Turkey, visited the exhibition. She said that she was impressed by the goodness of Dafa demonstrated in the artworks, and the spirit of practitioners who remained faithful and unyielding even in the face of persecution. In reference to the paintings depicting the Chinese Communist Party's torture of Falun Gong practitioners, she said she simply could not believe how the CCP could so inhumanly persecute these kind people.

The article, entitled "An Art Exhibition Presents Pain in Paintings," was published in Sabah
Ms. Akbas wrote an article to introduce the exhibition and explain how Falun Gong practitioners are being persecuted in China. Her article was published in her newspaper two days after she visited the exhibition. She stated in the article, entitled "An Art Exhibition Presents Pain in Paintings": "The paintings in the exhibition portray all kinds of torture that Falun Dafa practitioners are suffering in China. Almost all those who visited the exhibition were, without exception, very moved." The article not only described what Falun Gong is, but also the reason why the CCP dictator persecutes Falun Gong practitioners.
Among the visitors was food engineer Feyza Yalcin. After spending a long time looking at each of the paintings, she told a practitioner that she had tears in her eyes when she read the explanations of all the paintings and that she really liked them.
Mr. Cagatay, an artist who teaches in a university art department, said that the paintings in the exhibition were superb and demonstrated advanced skills. He said that the works expressed compassion and hope and were really a feast for the soul and worth savouring carefully.
He also invited his students in the art department to enjoy the paintings. After seeing the paintings, his students spoke highly of them.
During the exhibition, many visitors said that they were interested in Falun Dafa. In the guest book, a couple wrote that they were eager to come to a practice site to learn Falun Dafa as soon as possible.
You are welcome to print and circulate all articles published on Clearharmony and their content, but please quote the source.