World-renowned Shen Yun Performing Arts will ring in the Year of the Tiger with show-stopping performances at New York's Radio City Music Hall over the next two weekends, from Saturday Feb 13th through Sunday Feb 21st.
Senators and Members of Congress have expressed their delight at the return of Shen Yun to New York.
United States Senator Kirsten E. Gillibrand said she is grateful to Shen Yun for its dedication in spreading Chinese art and culture throughout New York state.
"Performing arts can make our spirits soar and remind us of life's possibilities and of our human powers to imagine and to create," she said in a congratulatory letter to presenters New Tang Dynasty TV.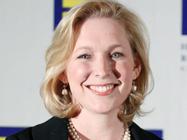 U.S. Senator Kirsten E. Gillibrand
"I commend those of you who have made it possible for the Shen Yun Performing Arts to inspire people throughout New York and our nation."
Congresswoman Carolyn B. Maloney heralded the way Shen Yun is preserving the five-millennia-old artistic traditions of China in a welcome letter to NTDTV. She said she has no doubt that the show will help further New York's great tradition of cultural richness.
She talks of the "sublime beauty" of the show. "From its intricate choreography to its ornate costuming, Shen Yun Performing Arts provides viewers world-wide with insight into Chinese mythology as well as scenes of sublime beauty," she writes.
Nydia M. Velázquez, U.S. Representative for New York's 12th District, thanked Shen Yun performers for their dedication to artistic tradition.
"Drawing inspiration from thousands of years of Chinese heritage, Shen Yun Performing Arts combines dance and music to create an entertaining and educational experience," she said in a letter. "Founded in 2006, the company has become one of the premier performers of Chinese music and dance by bringing to life legends and heroic figures of the past."
Source: http://www.theepochtimes.com/n2/content/view/29606/
You are welcome to print and circulate all articles published on Clearharmony and their content, but please quote the source.