From January 1 to 7, 2011, the Truth-Compassion-Forbearance International Art Exhibition was held for the second time in Istanbul, Turkey's business capital. The exhibition was held inside the Kadikoy District government building and won the praise of government officials and local people from all walks of life.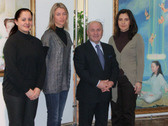 District Mayor of Kadikoy Mr. Selami Ozturk takes a photo with practitioners at the exhibition.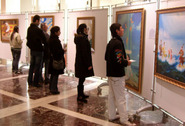 Visitors tour the exhibition.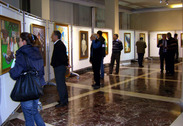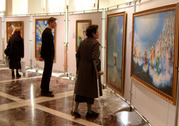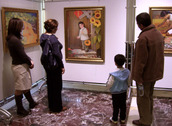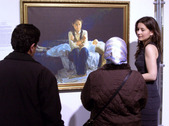 Practitioners share some of the meaning behind the paintings to the visitors.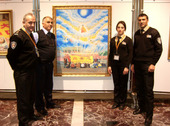 The security guards of the governmental building gave the exhibition a lot of support and help.
On the afternoon of January 5th, district Mayor Mr. Selami Ozturk came to the exhibition hall. After touring the exhibit, he wanted to take a photo with the practitioners to show his support. Practitioners expressed sincere appreciation for the support and help from the local government that made the exhibition inside the district hall possible. As he was leaving, Mr. Ozturk was given some materials providing more information about Falun Gong and a hand-made lotus flower.
During the week-long exhibition, visitors included the meeting attendees from various groups and organizations and city residents from all walks of life. The exhibition displayed the beauty of Falun Dafa and the great compassion and forbearance of Falun Dafa practitioners in face of persecution. The paintings touched the hearts of visitors of all ages and won high praise from many. At the same time, almost all visitors condemned the Chinese Communist Party for its suppression of righteous belief and persecution of honest and kind Chinese Falun Dafa practitioners.
Local Falun Dafa practitioners volunteered as guides. They introduced the stories behind the paintings and focused on the Chinese Communist Party's (CCP) 11-year-long persecution of Falun Gong. Many visitors looked closely at each painting and some remained for a long time yet still didn't want to leave. Some visitors were moved to tears at the paintings depicting the torture of Falun Dafa practitioners.
The exhibition also won praise and support from the government officials and staff. After the security guards of the building learned about Falun Dafa and practitioners' efforts, they offered a great deal of help. Some staff working at the building visited the exhibition and then brought in their family and friends. Some came to ask for more truth-clarification materials for their family and friends.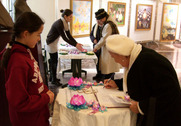 Many visitors left messages in the guest book supporting endeavours to end the persecution.
Since 2004, the Truth-Compassion-Forbearance International Art Exhibition has been held over 200 times in more than 40 countries. The exhibit consists of works from over twelve artists. Their backgrounds are varied and diverse in terms of professional experience, artistic styles and cultural upbringing. The exhibition will continue in other areas of Istanbul in 2011.
You are welcome to print and circulate all articles published on Clearharmony and their content, but please quote the source.