The Columbia University Falun Dafa Club held a five-day exhibit on campus from April 11th to 15th, 2011. The exhibit drew the attention of many faculty and students. Numerous Chinese students and their families announced their withdrawal from the Chinese Communist Party and its affiliated organisations. Many people left their email addresses, hoping to learn how to practise Falun Gong themselves.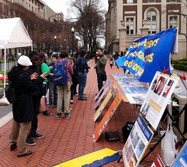 The Columbia University Falun Gong exhibit draws many faculty and students
The club president, Annie Wu, a sophomore, said that the Columbia University Falun Dafa Club was established in 1999. It has held photo exhibits almost once every year since 2004. The exhibits last year and this year have received funding support from the university authorities. The club hopes that the exhibits can help the 20,000 faculty and students at Columbia to learn more about Falun Gong and express their concern for the persecution of religious belief in China.
Teachers and Students Learn the Truth about the Persecution and Then Want to Learn How to Practise Falun Gong
The exhibit was set up in a high visibility location. Entering the gate, a large banner reading, "Falun Gong practitioners held in forced labour camps, killed for their organs," and a number of large truth clarification display boards were visible. The exhibit featured three sections: Introduction to Falun Dafa, Facts of Persecution, and the Nine Commentaries on the Communist Party.
Many people took informational materials and read them as they walked; some stopped to look at display boards while practitioners answered their questions. Many people were indignant about the persecution and showed sympathy for Falun Gong.
In a televised interview, Pete Cerneka, Assistant Director for Office of Civic Action and Engagement, said, "In any society, there is a free exchange of ideas. Falun Dafa practitioners have a story to tell, and it's important they tell it. People listen to that, look into it, and make up their own minds. That's why I feel like it's important that Falun Dafa is here in campus."
University student Christopher Hernandez asked what was harmful about Falun Gong, "Centering around meditation and compassion, and they get persecuted for that? And their organs are harvested? It's tragic."
Chinese Students and Scholars Learn the Facts and Are Happy to Quit the CCP and Its Affiliated Organisations
One Chinese student angrily pointed at the display boards, mocking and loudly questioning them in Chinese. Practitioner Ms. Ya Hui walked up to him and patiently answered his questions. Ms. Ya Hui told him that the practitioners hope that more Chinese people who have been deceived like him learn the true situation. She also told him why it is necessary to quit the CCP and its affiliated organisations. The young man gradually calmed down. Ms. Ya continued, "Can I help you with register your withdrawal from the CCP organisations?" The young man nodded his head and sincerely said, "Thank you" before leaving.
A young woman asked many questions, finally understood the true situation, and happily announced her withdrawal from the Chinese Communist Party. She was reluctant to leave the exhibit venue and continued asking Ms. Ya Hui many questions.
A Chinese law student who came to the U.S. not long ago had a long conversation with practitioners in front of the display. He took truth clarification materials and DVDs, and said that he would announce his withdrawal from the CCP organisations on the Epoch Times website.
Five days passed quickly. Although a bit tired, the club members and activity participants are very pleased that many people have learned the facts and their kindness is revealed. Everyone hopes to do better at their next truth clarification activity.
You are welcome to print and circulate all articles published on Clearharmony and their content, but please quote the source.