On July 20, 2011, in Vienna, Austria, Falun Gong practitioners held an information day in front of the United Nations (UN), to expose the CCP's atrocities in the 12-year-long brutal persecution of Falun Gong. They also called on people from all walks of life to help stop this crime against humanity.
| | |
| --- | --- |
| | |
| Falun Gong practitioners hold an information day in front of the UN, Vienna | Practitioners are displaying photos about Falun Gong in front of the UN in Vienna |

Falun Gong practitioners hold an information day in front of the UN, Vienna
The event started at 7:00 a.m. and ended at 6 p.m. The practitioners erected an information tent in front of the UN. Western Falun Gong practitioners sang songs such as "Falun Dafa is Great" and "Be Saved", which caught the attention many people. One woman said that she would like to buy a music CD. In front of display panels, a demonstration of Falun Gong exercises drew the attention of passers-by. Staff from the UN stopped to watch. During the time coming to work in the morning and leaving after work, many UN staffers received informational materials distributed by Falun Gong practitioners.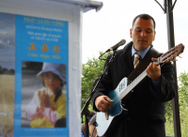 A practitioner singing 'Falun Dafa is Great'
A young engineer from a Middle East country was so drawn to this peaceful exercise that he took a lot of pictures. On learning the fact that Falun Gong practitioners are being persecuted by the CCP, he said that he had known about the Communist Party dictatorship for a long time, and he would tell his friends working for the UN about the persecution. Before leaving, he encouraged the practitioners, "You will succeed!"
| | | |
| --- | --- | --- |
| | | |
| A practitioner is explaining the facts to a passer-by | Passers-by carefully reading information panels about Falun Gong | Signing the petition supporting Falun Gong against the persecution |
Having carefully viewed all pictures on the information panels, a lady who used to work at a university told a Falun Gong practitioner that she and her husband loved Chinese traditional culture and had also practised some forms of Qigong. While watching the demonstration of Falun Gong exercises, she was saying with a sad heart: "I cannot imagine people practising such peaceful and beautiful exercises being persecuted." She expressed her wish that she wanted to learn Falun Gong. After finding out about the practice site in Vienna, she left with satisfaction.
Support from politicians
Some Austrian MPs sent letters to the Austria Falun Dafa Association condemning the CCP's persecution and supporting Falun Gong.
Judith Schwentner, MP and spokesperson for Green Party on the policy of assistance to developing countries and women's issues, wrote a letter to the Austria Falun Dafa Association in which she stated: "Falun Gong practitioners are still being persecuted and many of them have been detained in labor camps or sentenced. If a human rights lawyer defends Falun Gong practitioners, he or she will be particularly threatened. In the past few years, Green Party has repeatedly stated and strongly condemned these human rights abuses. "
Petra Bayr, MP and the spokesman for the Social Democratic Party on global economic development issues wrote a letter, stating: "Human rights also include social and cultural rights, so it is particularly important to value different cultural characters and give them appropriate space."
Ewald Sacher, MP also wrote a letter stating: "Involving China, it has been very important to point out and condemn the persecution of Falun Gong practitioners. In China, these practitioners who have been threatened and persecuted should have the fundamental right of being protected."
You are welcome to print and circulate all articles published on Clearharmony and their content, but please quote the source.