On Monday, April 23, 2012, the International Truthfulness-Compassion-Tolerance Art Exhibition was held in the Rotunda Building in Kosice. A large number of visitors attended, and almost exceeded the capacity of the Rotunda.
The exhibition was officially opened with a short speech that touched the hearts of the visitors, followed by a video about the artists and their works. The room was absolutely silent. It was as if no one even dared to breathe, they were so touched.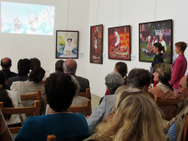 Visitors watch video about the artists
The visitors, quietly sitting and thinking, were then encouraged to view the paintings. The feedback was very positive, "I was not expecting this...," "Very powerful emotions...," "Very sad...," "I'm moved..."
Among those present were the mayors of the city districts of Kosice-North and Kosice-Tahanovce, the state advisor for minorities, the manager of the international company One-click, the director of the City Information Center of Kosice, the Constitutional Court procurator, and many other influential people. Each of them supported the exhibition by signing the visitor's book.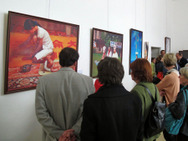 Viewing the paintings
The exhibition will run until May 18, 2012. A secondary school has approved a visit, and the students, accompanied at the exhibition by a guide, will also be shown the video.
You are welcome to print and circulate all articles published on Clearharmony and their content, but please quote the source.