"In the coldest days of winter, the prison guards stripped me naked outdoors and poured cold water over my head for nearly one hour. They poured the cold water slowly, one pot after another. I did not feel my regular body temperature until the next morning and I had a high fever for more than ten days. I was dizzy, coughed up blood, and felt agonizing pain in my chest. I endured electric shocks, sleep deprivation, and forced labour," said Mr. Lizhi He, a resident of Toronto, after a press conference at the Canadian parliament on July 11th, 2012. He narrated his story of torture in China for practising Falun Gong.
Canadian Foreign Minister John Baird will visit China on July 20th. The Falun Dafa Association of Canada held a press conference on Wednesday in Parliament, and called on the Minister to urge Chinese leaders to stop the persecution of Falun Gong and release eight practitioners, including He Lizhong, who are relatives of Canadian residents or citizens and who are imprisoned for their belief. The longest imprisonment term served of these eight Falun Gong practitioners is seven years.
Mr. Lizhi He was a senior engineer in China and won more than ten awards at national or ministry levels. He was imprisoned for three and a half years for his belief in Falun Dafa and Truthfulness-Compassion-Forbearance. He was rescued and brought to Canada on May 22, 2004 and reunited with his wife there. He said at the press conference, "My brother He Lizhong is also a Falun Gong practitioner. For telling others the facts of the persecution, he was arrested and sentenced to three years of imprisonment in March of 2010. He is currently imprisoned in Jiuquan, Gansu Province."
Lizhi tried to call his mother in China many times to find out about the plight of his brother. But he got a voice message, "The number you dialed does not exist." Eighteen months later, he finally contacted his mother. But his mother did not know anything about Lizhong either.
From his own experience of torture in prison, he knew what his brother would suffer. Last December, Lizhi learned from Minghui.org that his brother was imprisoned and tortured in Jiuquan Prison. But his family members in China did not know.
The stories of Lizhi and his brother are only the tip of the iceberg for hundreds of thousands of Falun Gong practitioners in China. Coincidentally, the date the Canadian Foreign Minister visits China this year, July 20, is the 13th anniversary of the initiation of the ongoing persecution of Falun Gong. Spokesperson Limin Zhou said, "We believe that the Minister's voice would remind Chinese authorities that the world is paying attention to what is happening in China. We think his voice will also be helpful in stopping the persecution of Falun Gong in China."
Limin said since July 20th, 1999, almost every major international human rights organisation has reported the CCP's persecution of Falun Gong.
Former Secretary of State David Kilgour also attended the news conference. He and David Matas released their investigation reports in 2006 and 2007 about the CCP's organ harvesting from living Falun Gong practitioners. Special Rapporteur on the Question of Torture and Detention of the United Nations, Manfred Nowak, and the Special Rapporteur on Freedom of Religion or Belief questioned the CCP's organ harvesting. Nowak concluded that the series of evidence offered by Kilgour and Matas in March 2007 provided a reference and a sketch of relevant images causing concern. At the end of 2008, the United Nations Committee against Torture expressed concern and called for further investigation.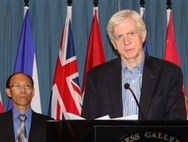 David Kilgour speaks at press conference and says that the voices of John Baird and other elected officials are important for calling for an end to the persecution of Falun Gong. Falun Gong practitioner Lizhi He stands behind (left)
Mr. Kilgour said in the press conference that transplantation doctors were the best people to accept the challenge of such organ harvesting. He gave an example that in 2006, during the International Congress of Organ Transplantation, Dr. Torsten Trey asked a Chinese transplantation doctor how they obtained large numbers of organs for transplantation. The doctor answered, "You will know if you ask the Falun Gong practitioners outside the conference room." Outside the conference venue, Falun Gong practitioners held banners and distributed flyers exposing the CCP's atrocities of killing for organs. Dr. Trey thought that the Chinese doctor meant to say that the organs were from Falun Gong practitioners.
Mr. Kilgour said the US Department of State admitted the existence of live organ harvesting from Falun Gong practitioners in its 2012 human rights report, which was covered by many media outlets.
In June 2011, a new question was added to the US visa application form DS-160, "Have you been directly involved in coercive transplantation of human organs or bodily tissues?" Some people think that this added question indicates that the U.S. government admits the existence of live organ harvesting and is taking action.
You are welcome to print and circulate all articles published on Clearharmony and their content, but please quote the source.