July 20, 2012, marked the start of Falun Gong practitioners' 13 years of peaceful resistance to the persecution by the Chinese Communist Party (CCP). Practitioners in the U.K. gathered at the north corner of Trafalgar Square in London on this special day to continue raising people's awareness and call for support to end the persecution.
U.K. practitioners gather in Trafalgar Square in London on July 20 to call for an end to the persecution.

People watch practitioners doing the exercises despite the rain.
A week away from the opening ceremony of the 2012 Olympic Games in London, a large number of tourists from around the world converged on Trafalgar Square. Practitioners' commemorative activity provided an opportunity for many people from different countries to learn the truth about Falun Gong.
Exercise Demonstration Radiates Falun Gong's Peaceful Energy
Although it rained off and on, practitioners continued to demonstrate the exercises during their seven-hour activity. Standing at a major crossroads of the city, they were dressed in yellow and had a row of colourful handmade lotus flowers placed in front of them. People from far away could see the peaceful scene. They paused to feel the peacefulness and energy radiating from the practitioners. They were even more impressed by the practitioners' perseverance despite the rain.
Practitioners speak with people about Falun Gong and the persecution.
More than 10 practitioners circulated through the crowd to hand out flyers and speak with those who wanted to learn more about Falun Gong. People were shocked to learn about the atrocities committed by the CCP.
Practitioners displayed placards listing the names and photos of practitioners who have been killed during the 13-year-long brutal persecution. White lotus flowers were placed in front of the display. There was also a reenactment of harvesting organs from living Falun Gong practitioners beside the practitioners who were doing the exercise demonstration. The stark contrast made people empathize with practitioners who are being persecuted. It also helped them see clearly the CCP's crime against humanity and condemn it.
Joaquin, a college student from Argentina, was in London on a tour. He had never heard about Falun Gong before. When he saw the photos of Ms. Gao Rongrong taken before and after she was tortured, his eyes were riveted for several minutes, and then he walked straight to the information desk and signed the petition. He was very emotional when being interviewed, saying, "I don't know why, only when I saw her photos, I ... I felt very sorry for her."
Ben, a chef from England, thinks that the atrocity of live organ harvesting is an insult to humanity.
Ben is a chef from England. It was the first time that he had ever seen the Falun Gong exercises and felt a strong energy that calmed him down. He stayed for a long time to learn the facts about Falun Gong and said he wanted to try to practice it. He said, "Bad things are happening in China. I hope there will be some changes. It's shocking and unbelievable. I can't understand why [the CCP] takes such an extreme approach in dealing with such a peaceful practice. People are persecuted for their beliefs, and even have their organs forcibly removed—it's an insult to humanity."
Encouraged by 300 Thumbprints, People Support Falun Gong
Practitioners also prepared a poster showing that 300 residents of Zhouguantun Village in China gave their thumbprints to support Falun Gong practitioners. The message on the poster read: "The people in China are rising up to make their mark to support Falun Gong. Will you join them?"
People put their fingerprints to support Falun Gong and call for an end to the persecution.
The poster really drew people's attention. Encouraged by the villagers in Zhouguantun Village for their courageous act, many people gave their fingerprints to support Falun Gong. At the end of the day, several hundred fingerprints and signatures had been collected and covered the entire white cloth that practitioners had prepared.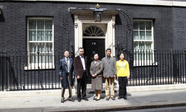 Representatives for U.K. Falun Gong practitioners deliver the signatures collected to call for an end to the persecution at Number 10 Downing Street.
That same day, Dr. Liu, Chairman of the U.K. Falun Dafa Association, and four other practitioner representatives went to Number 10 Downing Street to deliver 17,000 signatures calling for an end to the persecution that they had collected over the past year at different activities.
You are welcome to print and circulate all articles published on Clearharmony and their content, but please quote the source.