On April 29, 2013, a special hearing on live organ harvesting was held in the UK parliament. It was organized by Doctors Against Forced Organ Harvesting (DAFOH) and was held to expose live organ harvesting crimes occurring in China and to discuss the international society's efforts to develop legal procedures to prevent this crime. Speakers encouraged the British government to learn from good examples like the Australian, U.S. and Israeli governments to adopt an active approach for stopping this inhumane crime. The hearing was attended by MPs across all parties, political and strategy assistants, government representatives, and human rights activists.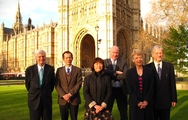 The host for the "Taking Action to Stop Live Organ Harvesting" hearing with five special guest speakers
There were five special guest speakers on the panel of the hearing: David Kilgour – former Secretary of State (Asia-Pacific) for Canada and a senior MP in Canada, David Matas – famous Canadian human rights lawyer (his speech was presented by someone else on his behalf), Ethan Gutmann – an investigative journalist based in London, Dr. Huige Li – a member of DAFOH in Germany, and Annie Yang – a Chinese Falun Gong practitioner who has survived unprecedented tortures in a Chinese prison. With solid evidence from their many years of investigations, they exposed how the Chinese regime persecutes and tortures Falun Gong practitioners, how it massacres Falun Gong practitioners on a large scale and how it profits from a system of forced organ transplantation.
During the Q&A, MPs were engaged in a vigorous discussion as the audience inquired after more details about this crime. Subsequently, the guest speakers gave their opinions on the detailed actions that could be taken to stop this crime. The suggested actions include: to set up legal barriers like Israel has to prevent British people from going on organ-transplantation trips to China; to ban the perpetrators of this crime from coming to Britain by adding the question "Have you been involved with forced organ transplantation?" on immigration forms as U.S. Customs does; to learn from what the Australian government has done and refuse to provide training to Chinese doctors in the organ transplantation area. Additionally, the panel raised the issue of investigations into all imported goods that were made in Chinese labour camps.
From the questions raised during the presentation and afterwards, most of the attendees were focused on one thing, which was how to stop the Chinese regime's organ harvesting crimes against Falun Gong prisoners of conscience.
Host of the Hearing: This Is Genocide, The British Government Cannot Ignore this Issue

Ingrid Cranfield, MP for Enfield, hosted the hearing.
Enfield MP Ingrid Cranfield hosted the hearing. She said that especially due to her Jewish background, she understood that the Chinese regime's persecution and torture of Falun Gong practitioners is indeed genocide and she reasserted her view that the British government cannot allow such crimes to happen anywhere.
During the hearing, Ms. Cranfield also pointed out that the Chinese regime's persecution of Falun Gong practitioners, especially the crime of live organ harvesting, is none other than a typical sign of genocide: "It's a human rights issue and it has many features in common with genocide and mass murders elsewhere in the world. You first make sure those people who are your enemy or threaten you are not regarded as human any more with propaganda. And if they are not human, it's ok to kill them. Isn't it?"
After the hearing, Ms. Cranfield said in an interview that she had no doubt about the reality of this crime saying that based on what the Chinese regime has done elsewhere in the world, it was capable of anything.
Ms. Cranfield was also impressed with the efforts that the Israeli and Australian government made to stop this crime. She called upon the British government to change its passive attitude towards this issue by starting to take action. She stressed that it didn't matter if the actions were big or small; actions have to be taken and even tiny actions are better than none. Regarding a detailed action plan, she actually agreed with one of the guest speakers from the beginning of the hearing who suggested setting up a cross-party special committee, for example, a Committee for Falun Gong or a Live Organ Harvesting Committee.
Member of Parliament: This Hearing Is the First Step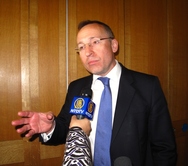 Labour MP and Shadow Minister Andy Slaughter is interviewed after the seminar
Despite his very busy schedule, Labour MP and Shadow Minister Andy Slaughter attended the hearing upon invitation by a number of his constituents. In an interview afterwards, he expressed his horror over the crime exposed by the guest speakers. He admitted that he had heard of live organ harvesting in China, but never anticipated this crime to be occurring on such a large scale and therefore cannot be ignored. He said: "I think what's remarkable about what we have heard today is the scale that is alleged, that we are talking about not this being done on one or two occasions or something being done almost to the racket as a criminal act, it's a state sanctioned enterprise that is on a different level."
Mr. Slaughter illustrated the importance of raising public awareness on ethical organ use and developing public ethical medical education: "Obviously anything like forced organ transplant, let alone the murder of the person from whom the organ has been taken, would clearly be a very serious crime in the UK. But if people are able to go abroad and have transplants from that source, whether they know it or not, and come back to the UK, then clearly this is something we should be interested in because firstly it is a very serious crime, it is a crime against humanity, it's a form of torture and therefore it is something that goes beyond the jurisdiction of the UK."
To Mr. Slaughter, the hearing was UK's first step to stop the Chinese regime's live organ harvesting crime. "This is really the first stage of growing awareness, getting constituents to talk to MPs and getting MPs to raise it with our own government. Clearly this issue goes beyond just the British government but it's clearly important that the foreign office is here and indeed the home office is here in terms of criminal actions, and do take it seriously and there is definitely something we can do."
Human Rights Activist: The Criminals Should Be Brought to Justice

Human rights activist Paul Barasi spoke at the seminar
Twice-elected former MP and human rights activist Paul Barasi gave a speech at the hearing. He said that the reason for him to attend the meeting was to call for the British government to take action in stopping the Chinese regime's crime of live organ harvesting, as currently it has not done enough. He said: "I feel it's not about having meetings, it's about actually getting something done, getting western governments including the UK government to do things."
Mr. Barasi also called for legal action against the perpetrators, saying, "We know it is going on and it needs to stop! It should never have happened and having stopped it the people who have been responsible for doing this need to legally be brought to account."
Following this hearing, David Kilgour, Ethan Gutmann and representatives from DAFOH will head to northern England. In their next stop in Leeds, they will again present the evidence of the Chinese regime's inhumane crime to local politicians and government officials.
You are welcome to print and circulate all articles published on Clearharmony and their content, but please quote the source.