Falun Dafa practitioners from 35 countries rallied and marched in Madrid on October 4, 2014. They held various activities, calling for help in stopping the persecution of Falun Gong [also known as Falun Dafa] in China.
The practitioners wanted to inform people about the benefits of the practice, while raising awareness about the Chinese regime's state-sanctioned crimes of forced organ harvesting from living Falun Gong practitioners. The practitioners also attended the annual Falun Dafa Experience Sharing Conference in Europe.
The following comments were made by several practitioners after the rally and march:
"Falun Dafa Brings Me Inner Peace and Calmness"
Ms. Juanes, from Spain, began practising Falun Dafa in 2005. She was glad to see so many practitioners coming to attend the activities in Madrid, and the local people's positive responses. "I feel great seeing people support what we do," said Ms. Juanes. "We want to let people know what Falun Gong practitioners are really like, and help people become aware of the persecution. We hope that what we are doing can help end the persecution soon."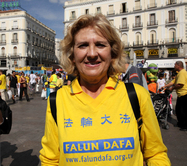 Falun Dafa practitioner from Spain Ms. Juanes says, "Falun Dafa allows me to be peaceful and calm"
Ms. Juanes' husband began practicing Falun Dafa first while she was practicing something else. She later realized that what she was doing wasn't effective, and also noticed her husband's dramatic health improvement. His back and shoulder problems had disappeared. She then started to practice Falun Dafa. "Falun Dafa allows me to be peaceful and calm. I no longer pursue superficialities and fame," she said.
"Falun Dafa Answers All The Questions I Have in My Life"
"Our activities in Spain's capital remind the government to care not only about trading with China, but also about China's human rights issues," said Spanish practitioner Ms. Koepper.
Ms. Koepper, her mother, and her daughter participated in the rally and march. She said that the spectators supported the way practitioners make themselves heard. "Many people told me that we were doing a good job, and should keep it up. I feel that people in Madrid are openminded and clearheaded. They know that the persecution is wrong, and are shocked upon learning the details and brutality of the persecution happening in China."

Three generations of the Koepper family: Mother, daughter and grand-mother, all practise Falun Dafa
Ms. Koepper is a business owner, and started practicing Falun Dafa in 2007. "I always looked for answers. After I read Zhuan Falun¸ all the questions I had about life since I was little were answered. I immediately started practicing. My patience improved dramatically. I feel very comfortable when I exercise. My daughter's classmates could tell that she had changed for the better," she said.
Ms. Koepper can't accept the persecution of Falun Gong in China and that was why she participated in the rally and march. "I know many Chinese practitioners and understand the tremendous pain and pressure they suffered when being tortured in the prisons. I admire them so much for not giving in and giving up their belief." She hopes that the Chinese people can stop being afraid and listen to the facts about the persecution of Falun Gong.
Ms. Marino is Ms. Koepper's mother and she became a practitioner in 2001. When she saw on television how the Chinese regime began persecuting Falun Gong in 1999, she couldn't stop thinking about it. In 2001, German Falun Gong practitioners came to the Canary Islands where she lived, and soon a group of Germans began practicing with him. After she heard about it, she told herself, "I belong to Falun Gong." She also began practicing.
"It's unacceptable that the Chinese regime conducts forced organ harvesting from living Falun Gong practitioners. It must be stopped," said Ms. Marino.
"I Hope All Chinese People Can Understand How Falun Gong Benefits the World"
Ms. Maciatowcz is a Polish practitioner. She felt strong energy during the march and rally. "I was so happy to be here. The march was spectacular and has impressed the spectators."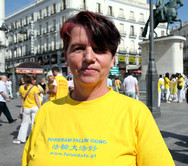 Ms. Maciatowcz from Poland hopes that the Chinese people can understand the great benefits of Falun Dafa
Ms. Maciatowcz heard about Falun Dafa when she was in Israel. When she saw Falun Dafa practitioners in Poland, she was shocked to hear about the persecution, and immediately signed the petition to support the practitioners. Soon afterward she began practicing.
"It's a great shame that the Chinese people don't know how great Falun Dafa is, and Westerners like us know more about Falun Dafa." Whenever Ms. Maciatowcz meets Chinese people, she tries her best to tell them why Falun Dafa is a great part of Chinese culture. "I hope all Chinese people can understand," she said.
You are welcome to print and circulate all articles published on Clearharmony and their content, but please quote the source.