For over 10 years, Falun Gong practitioners have been coming to the Buen Retiro Park, one of the largest parks in Madrid, to do the exercises every Sunday. The peaceful, slow-moving exercises and meditation have been quick to draw newcomers to the group.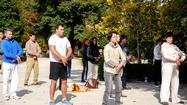 Gathering for Falun Gong exercises at the Buen Retiro Park in Madrid
Valentina, who heard about the meditation from her friend, said she really likes the exercises. "It makes me feel more energetic and I'm more focused, which helps me do my work better," she shared.
Her family life also improved since she took up Falun Gong. Valentina used to easily get upset when dealing with her children, but she has now learned to calm down and listen more with mutual respect. Her children are also happy with the positive changes in her. Her daughter once said to her: "The meditation makes you peaceful and happy. Keep it up!"
The benefits of Falun Gong also remind Valentina to share the practice with her friends. "I often tell them this is something that we should not miss—you get so much out of it and you don't have pay anyone anything."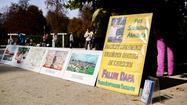 Posters introducing Falun Gong

Passers by stop to learn more
Following Valentina's advice, Pepa from Bulgaria joined the meditation. "I started about two months ago. Already, I can feel a strong energy when doing the exercises. This never happened to me before." As a poet, Pepa found she is now able to concentrate better on writing, which increased her productivity and the quality of her work.
Another reason she became a practitioner was the brutal suppression in China. "People there are suffering for their belief, which makes me really sad. I know I have to do something to help. Practising the meditation and telling others about it is something I can do."
Influenced by Pepa, her friend Raina came to the park to learn the exercises over the weekend. "My experience today was great! The people are so nice. I plan to continue with it." She said she would come again, plus do the meditation at home.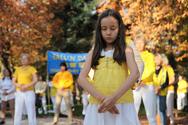 A young girl does the Falun Gong exercises prior to the 2014 European Falun Dafa Experience Sharing conference in October 2014 in Madrid
David, who moved to Madrid six months ago, has been coming to do the exercises every weekend. "I like the energy field here. It's also a chance for us to share experiences on how to improve ourselves. I encourage anyone who is interested to come try it out."
You are welcome to print and circulate all articles published on Clearharmony and their content, but please quote the source.