Practitioners in Turkey held activities to celebrate World Falun Dafa Day in Istanbul and Mersin from May 11 to the 13. They let people know about the practice of Falun Dafa and the fact that it is being persecuted in China.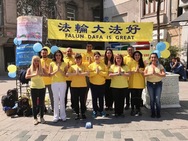 Turkish practitioners celebrate Master Li's birthday and World Falun Dafa Day
Istanbul
Practitioners gathered in front of the Chinese consulate on Friday morning, May 11, and held a press conference to condemn the persecution of Falun Gong practitioners and the regime's state-sanctioned forced organ harvesting crimes being carried out against these prisoners of conscience. They distributed fliers to passersby and displayed posters demanding that former Chinese leader Jiang Zemin be brought to justice for initiating the persecution in 1999.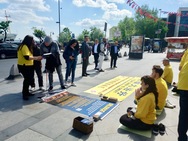 Besiktas seaside square May 12, 2018
Practitioners demonstrated the exercises near the ferry pier and bus stops in Beşiktaş, one of the biggest districts in Istanbul, on Saturday, May 12. They also collected signatures for the Doctors Against Forced Organ Harvesting campaign to stop the persecution.
Ankara University instructors Ömer Knıloğlu and Mustafa Akkaya were in their traditional attire on their way to a demonstration. When they heard about the persecution in China, they stopped and signed the petition for it to end, saying, "We are opposed to all kinds of persecution."
Bulgarian immigrants Müjgan and his father stopped when they saw practitioners doing the Falun Dafa exercises. Müjgan signed the petition and commented on the importance of the principles of Truthfulness-Compassion-Forbearance, Falun Gong's core values.
On Sunday, May 13, practitioners demonstrated the exercises and celebrated Master Li's Birthday and World Falun Dafa Day on Taksim Square, one of the most popular tourist destinations in Istanbul. Several Chinese tourists took photos and brochures.
| | |
| --- | --- |
| | |
| When students saw Falun Dafa's banners, they stopped and signed the petition calling for the persecution to end | Ankara University instructors Ömer Knıloğlu and Mustafa Akkaya, who were on their way to participate in a demonstration in their traditional attire, signed the petition calling for an end to the persecution |
| | |
| Müjgan and his father, Bulgarian immigrants who live in Turkey, signed the petition calling for an end to the persecution | Metin Ebbet and his daughter Şevval Ebbet were interested in the Falun Dafa exercises and stopped for 30 minutes to learn the first four of the five exercises |
Mersin
Practitioners in the southern city of Mersin in Turkey showed the documentary Free China to the Mersin Poets and Writers Association (MESYAD), which has 30 members, on May 12.
Before the documentary, practitioners presented a short introduction to Falun Dafa. After the film, the spectators reacted to the ongoing persecution in China.
Poet and English teacher Günay Sarac said, "I did not know that Falun Dafa was so beneficial, but I've learned what it is. This was a very good documentary."
Poet and teacher Süleyman Demir commented, "I had no knowledge that this persecution was taking place in China. People are struggling against it. You must fight for success."
You are welcome to print and circulate all articles published on Clearharmony and their content, but please quote the source.