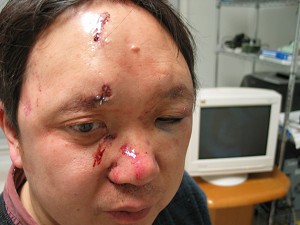 Dr. Peter Yuan Li hours after being beaten and bound in his Atlanta home by assailants who took only computers and documents, leaving other valuables untouched.
Brussels (EFGIC) – The Chinese Communist Party is in its death throes. Having played out all of its propaganda tricks, irrational and without focus, its overseas secret agents have lost their senses and act out gangster style mobbing in broad daylight.
At noon on February 8th, two armed men forced themselves into the home in Atlanta of Epoch Times Chief Technical Officer Mr. Yuan P. Li, beating him and stealing two of his laptops. After Mr. Li managed to free himself from the extension cord used to bind him, he was taken to an area hospital for treatment.
In the afternoon of February 9th, the home of Mrs Chen, staff member of New Tang Dynasty TV Company (NTDTV) in Paris, was ransacked and the income of the NTDTV New Year Gala ticket sales was stolen.
The Epoch Times, an international newspaper with a focus on human rights in China, and NTDTV a US-based Chinese community channel promoting Chinese culture, are considered a threat by the CCP for effectively breaking through the CCP's propaganda system inside China and abroad - particularly since the publication of an editorial called "Nine Commentaries on the Communist Party" by The Epoch Times which exposes the tyrannical reign of the Chinese Communist Party (CCP), including the violent suppression of Falun Gong. This publication lead to over 8 million membership renunciations from the CCP and its affiliated groups.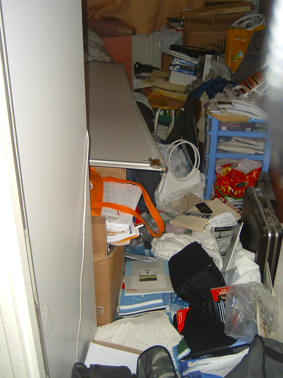 Mrs. Chen's flat after it was ransacked.
When the mask drops: openly using violence in free countries
Both media channels announced their intentions not to be intimidated by these acts of violence which they equivocally associate to the CCP's secret agents.
Mrs Chen stated: "This is an attempt of intimidation and seeks to sabotage a cultural event that promotes our TV station. NTDTV is the only station that broadcasts news into China which is not controlled by the Chinese government. This is why we are oftentimes threatened and put under all kinds of pressure by the Chinese authorities, in China or abroad, by special agents and collaborators from the Chinese Embassy."
Asked about the motive for the Atlanta attack, John Nania, the editor-in-chief of the English-language edition of The Epoch Times said, "The taking of Yuan's two laptops, while leaving behind other more valuable items, is the key to this attack. The thugs who did this were looking for information about The Epoch Times. That was one motive. The other was the obvious attempt to terrorize Yuan and by extension the staff of The Epoch Times. But that is not going to happen. We are all concerned for Yuan, but we all share with him the determination to report honestly on events in mainland China, no matter what efforts are made to deter us."
What happened to Peter Yuan and Mrs Chen, both Falun Gong practitioners, is part of a larger pattern of violence perpetrated against Falun Gong activists by Chinese agents in the West.
Speaking on behalf of the European Falun Gong Assocation, Mr Peter Jauhal said, "We call upon the French and US law enforcement to investigate this matter. It is an assault on Western citizens by agents of the Chinese regime. We also call upon the French and U.S. government to communicate to Chinese consular officials in clear and public terms that there will be zero tolerance for such illicit behavior here in the West."
###
Background
Falun Gong, also known as Falun Dafa (about), is a practice of the Buddha School, consisting of meditation and exercises, with teachings that emphasise living by three principles: truthfulness, compassion, and tolerance. Originating in China, Falun Gong is now practised in over 70 countries countries. With Chinese government estimates of 100 million China practising Falun Gong in China, in July 1999 the Chinese Communist Party-state launched a nationwide, violent campaign to "eradicate" the practice. The European Falun Gong Information Centre has verified details of 2,804 deaths and over 44,000 cases of torture (Reports / Sources). Millions have been detained or sent to forced labour camps.
---
FOR MORE DETAILS, PLEASE CONTACT THE EUROPEAN FALUN GONG INFORMATION CENTRE - Peter Jauhal + 44 (0) 7739 172 452 Nicolas Schols +32 47 98 75 734 Email: europe@falungonginfo.net

You are welcome to print and circulate all articles published on Clearharmony and their content, but please quote the source.