| | |
| --- | --- |
| | |
| Passing out fliers and showing display boards | Display board facing passing vehicles and pedestrians |
My wife Zhang Lihong has two young children, a blind mother and an 80-year-old father, and lived in Lufeng, Guangdong province, in Mainland China. Because she persists in her belief in Falun Dafa, she was abducted at midnight May 19th 2004 when 20 policemen in six police vehicles surrounded her house.
According to my father-in-law, when he and Lihong's mother saw policemen trying to take away their daughter, they grabbed her tightly and begged the policemen with tears. But two old people couldn't protect their daughter. In order to stop the policemen, the elderly man ran to the police car wanting to stop the vicious policemen. But he was stopped by the policemen. No matter how the seniors and two 3-4 year old children cried, the policemen and agents from the national security bureau showed no mercy.
My wife went on a hunger strike to protest the illegal abduction. Many overseas people also protested and tried to rescue her. After three days, she was released.
But the Shanwei City Communist Party's persecution of her didn't end there. On October 27th, 2004, after my wife sent our two children to kindergarten, she talked to some local people about how the Communist Party persecuted her and other Falun Gong practitioners. She was abducted again. In a few days, the Shanwei city National Security Bureau had sentenced her to three years of forced labour in Guangdong Province Women's Forced Labour Institute (formerly the Sanshui Women's forced labour institute). She has not yet been released.
The persecution from the Chinese Communist Party has brought a lot of suffering to my wife and my family, especially my mother-in-law. Thinking of her daughter, the elderly lady could not bear the pain and went blind and suffered a mental collapse.
More and more Hong Kong residents and officials became aware of the communist party's persecution of my family and expressed their support and sympathy. So far, seven city legislative members and two district representatives have signed the petition letter requesting related authorities of Guangdong Province release my wife. They are Yang Sen, Li Zuoren, He Junren, Liu Huiqing, Liang Yaozhong, Zeng Jiafu, Liang Guoxiong, Li Zili, Zeng Jiancheng. Two other Hong Kong legislative members wrote letters to the Guangdong Province Bureau of forced labour, requesting them to release my wife. District Council members Li Zili and Dai Zuoxian wrote letters to the Sanshui Women's Forced Labour Camp, asking them to release Zhang Lihong. During the signature drives, nearly 2000 Hong Kong residents signed their names requesting the Chinese Communist Party to release my wife.
The following is a public inquiry to the Sanshui Women's Forced Labour of Guangdong Province:
In the first month after she was sent to the labour camp, sources said my wife was tortured and injured. She was hospitalised for one week. How did the forced labour camp torture her? I have the right to bring the responsible people to justice.
I have written many letters to the forced labour camp asking them if she was abused, regarding her sleep, work, work hours, life, punishment and reasons for punishment. I didn't get any replies so far.
I have made a lot of phone calls to the women's forced laboir institute asking about her situation, but received no clear answer.
My father-in-law is 77 years old. He travelled a long way to visit her. But the forced labour institute refused to let him see her. The excuse was that the meeting hall was being remodeled.
In May 2006, my wife was transferred to the most evil 3rd squadron. What is the reason? Why did the authorities want to "tightly manage" her? Why did they assign two other inmates to monitor her around the clock? Do they want to cover their evil doings by "tight management" so as to cut communications with the outside? I strongly request the forced labour institute to stop the evil "sealed management" of her.
China's Constitution gives every citizen the freedom of belief. Why did the forced labour camp personnel threaten her to give up her belief?
Other released Falun Gong practitioners said the 3rd squadron ordered other prisoners to beat Falun Gong practitioners, deprive them of sleep or force them to squat for long periods of time.
The forced labour institute was under the administration of the Guangdong Province Judicial System. The officials of the Guangdong Judicial System are responsible for any torture of my wife and other Falun Gong practitioners in forced labour institutes.
The authorities must guarantee that Falun Gong practitioners will not be tortured or abused and must release all illegally imprisoned Falun Gong practitioners, including my wife.
Kuang Senqia
Hong Kong Resident
June 12 2006
Note: Zhang Lihong is now imprisoned in Guangdong Women's Forced Labour Institute. She is in the 3rd squadron, district one.
Phone number of Judicial Department Guangdong Province: 86-20-86350062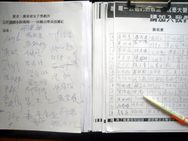 Nearly 2000 Hong Kong residents signed on petition form asking for release of Zhang Lihong
You are welcome to print and circulate all articles published on Clearharmony and their content, but please quote the source.