On July 15th, 2006, on the occasion of a public rally to protest the persecution of Falun Gong in China and, in particular, to protest organ harvesting from living Falun Gong practitioners, Members of Parliament from the three major parties; the Conservative Party, the Liberal Party, and the New Democratic Party, wrote letters to local Falun Gong practitioners condemning the Chinese Communist Party (CCP) atrocities of harvesting organs from living Falun Gong practitioners in China.
Conservative Party MP Nina Grewal: Human Rights Are Not Negotiable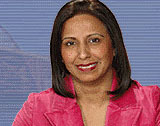 Conservative Party MP Nina Grewal
Conservative Party MP Nina Grewal said in her letter: "On July 6th David Kilgour and David Matas released a now-famous report claiming that allegations of illegal organ harvesting from Falun Gong practitioners in China were true.
"These allegations cannot be taken lightly. The Conservative government is treating these allegations very seriously indeed. That is why Foreign Affairs Minister Peter Mackay has asked various international bodies, including the United Nations, human rights organisations, and like-minded countries, to investigate the matter."
"We have asked the United Nations Special Rapporteur on Torture to look into the torture and organ harvesting that is allegedly taking place at places Shenyang City, Liaoning Province. [...].
"In our dealings with China we have been absolutely clear—we expect China to adhere to international norms regarding torture and human rights. We continue to denounce any and all human rights violations perpetrated by the Chinese Communist Party against practitioners of Falun Gong.
"In terms of human rights, my position as the Member of Parliament for Fleetwood-Port Kells could not be clearer: human rights are not negotiable, and religious freedoms are the most precious rights we have. I am so proud to serve in a country that has protected religious liberties in the Charter of Rights and Freedoms.
"I stand shoulder to shoulder with the Canadian practitioners of Falun Gong and all people of faith in calling for true freedom of religion, freedom of conscience, freedom of association, freedom to worship, and freedom from persecution the world over. Our position is clear: all persecution against Chinese practitioners of Falun Gong must stop, and the allegations of organ harvesting must be investigated.
"While we treasure the precious freedoms we have in Canada, we must not forget those who do not enjoy such liberties. I want to urge you to continue to fight for justice and to keep on exercising your rights for the betterment of others."
At the end of the letter, MP Grewal said, "I wish you all the best for a successful event today. As we move forward, let me assure you that the Conservative government will continue to stand up for human rights worldwide while safeguarding the rights we enjoy at home."
Liberal Party MP Stephen Owen: Chinese Government Urged to Cooperate with an Impartial, International Investigation
MP Stephen Owen said in his letter, "I am writing in support of your rally on July 15th to protest the persecution of Falun Gong in China and, in particular, to address the issue of suspected large scale, organ seizures from unwilling practitioners.
"I have read with horror the recent report by David Matas and David Kilgour. I recognise the difficulties of proof that the authors report and I support the call for the Chinese government to cooperate with an impartial, international investigation in China of these alleged crimes.
"As former Prime Minister Paul Martin stated publicly to President Hu Jintao in Ottawa in September 2005, if China is to fulfill its potential to become a world leader, it must seriously address its human rights violations."
New Democratic Party MP Bill Siksay: NDP Will Not Stay Quiet
New Democratic Party MP Bill Siksay said in his letter, "The recent report by former MP David Kilgour and human rights lawyer David Matas is extremely disturbing. According to their independent investigation, there is indeed an ongoing large scale involuntary seizure of vital organs from Falun Gong practitioners. The conclusions and recommendations made by Mr. Kilgour and Mr. Matas must be taken seriously by Prime Minister Harper. Canada must act to end these egregious acts against unwilling, marginalized and defenceless prisoners.
"My NDP colleagues and I support the efforts of the United Nations and Amnesty International to continue to investigate the situation without state interference. We call on the government to put pressure on China to cease immediately these atrocities against political prisoners.
"Please be assured that the NDP will not stay quiet while allegations of human rights violations continue to go unchecked. The NDP will continue to pursue this urgent issue until we are satisfied that these practices have been halted and the human rights of all prisoners are respected."
In addition, BC Federation of Labour representatives and former MP, well known Vancouver Sun journalist for over 30 years, recipient of the highest honour for Canadian citizens " Honour of Canada", Simma Holt spoke at the rally.
You are welcome to print and circulate all articles published on Clearharmony and their content, but please quote the source.