On August 4th, 2006, the Penghu County Council passed a resolution calling for an end to the Chinese Communist Party's (CCP) inhuman practice of harvesting organs from living Falun Gong practitioners. The resolution was proposed by Speaker Liuchen Chao-ling and co-signed by all council members.


Group photo of practitioners and Council Member Yang Yao in front of County Council building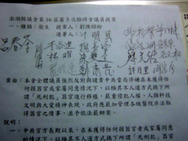 The resolution was passed by all council members
On the day of the council meeting, a dozen Falun Gong practitioners went to the City Council to audit the meeting. The council speaker welcomed them warmly and introduced the practitioners to all participants. The resolution was passed unanimously at 5:30 p.m. on August 4th. The speaker said it was the first resolution unanimously passed, making it all the more significant.
On the next day, the Penghu Times reported in length on the council's condemnation of CCP atrocities.
Before the resolution proposal, practitioners visited council members to explain the facts about Falun Gong and the persecution. Most of the members signed the petition circulated by the "Coalition to Investigate the Persecution of Falun Gong," to express their concern about the CCP harvesting organs from living Falun Gong practitioners. The local government bodies including the County Council, County Head, Department of Health, many township heads and village leaders all signed the petition form calling for an end to the CCP atrocities. People are clear about the CCP's evil nature.
Councils of Eight Counties and Cities Pass Resolution Condemning CCP
At the beginning of March, the CCP's atrocities of organ removal from living Falun Gong practitioners, their sale for profit and cremation of practitioners' remains to destroy the evidence, were disclosed. During the past five months, elected governments in Taiwan have condemned such inhuman barbarity. On April 18th, Legislative Council Member Lai Ching-te put forward a temporary proposal and urged the Legislative Council to draw up a resolution requesting international human rights organisations and the World Health Organization to investigate CCP labour camps, prisons, and hospitals. The proposal has been co-signed by 54 members and submitted to the Procedure Committee for discussion.
Members of county and city councils and township representatives condemned the CCP atrocities of killing Falun Gong practitioners.
On May 4th, the Chiai County Council passed a resolution condemning CCP atrocities and called on the international community to stop the CCP's crimes. Later, eight county and city councils, including Yilan, Chilong, Hualian, Tainan, Yulin, Pingdong and Penghu, passed resolutions condemning the CCP's inhuman organ harvesting practices. Other county and city councils are in the process of writing similar proposals.
You are welcome to print and circulate all articles published on Clearharmony and their content, but please quote the source.