After 50 performances in cities throughout America, Canada, Europe, and Japan, as well as Brisbane and Gold Coast in Australia, the Divine Performing Arts Troupe made its debut in Canberra on the evening of March 20th, 2007. They performed two nights in the capital city of Australia.

Performance Hall
The Chinese New Year Spectacular, performed by the Divine Performing Arts Troupe, moved many audience members in Canberra. Its high artistic concept, huge power, and elegant performances combined to display the rich and profound meanings of traditional Chinese culture.
Gaining awareness of human rights problems in China after watching the show
Legislator Ms. Deb Foskey of Canberra said that Australians have mainly learned about China from the viewpoint of its being a trading partner, but thanks to numerous people's contributions in striving to raise the awareness of human rights, Australians are learning a lot more about China. She said that she had become aware of the human rights violations in China, and indicated that it is interesting to see China's human rights problems displayed in front of the world. She expressed appreciation for people's efforts in this regard.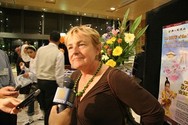 Legislator of Canberra, Ms. Deb Foskey
Ms. Chantelle Lustri, secretary to the Executive Director of Canberra, said that the dances were very beautiful. "It was a moving performance, like nothing I have ever seen before. It was a great diversity of culture. It's good to let people enjoy the diversity of culture in Australia. I liked 'A Dunhuang Dream' most. I hope they (Divine Performing Arts Troupe) will come again next year."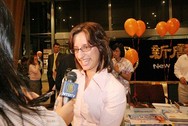 Secretary to the Executive Director of Canberra, Ms. Chantelle Lustri: "The dances are very beautiful. It is a moving performance, like nothing I have seen before."
Human Rights lawyer praises Falun Gong practitioners' love for their country
Human Rights lawyer Mr. Bernard Collaery said he learned the meaning of "loyalty" and "filial piety" after watching the dance, "The Loyalty of Yue Fei." He said he can understand Falun Gong practitioners. They are true patriots. He also said the performance illustrated a clear and strong message.
Canberra local media focus on the performance
Marisia works for a TV station in Canberra. She praised the dances, calling them "so beautiful." She was most impressed with the precise footwork -- "they walk like they are skating."
The main local newspaper, Canberra Times, ran a feature story about Vina Lee, an Australian artist, before the performance. Before that, the newspaper had another report about the upcoming performance. On March 19th, the day the troupe arrived in Canberra, the paper published a long article entitled, "Inside a Celestial Kingdom," with two large photos, and introduced the Divine Performing Arts Troupe in a very positive manner. Recently, over ten local media, including radio, TV and newspapers, showed very high interest in NTDTV's Spectacular and have run a series of reports on the event.
Many government officials and media planned to attend the performance on the second day.
You are welcome to print and circulate all articles published on Clearharmony and their content, but please quote the source.