On April 1st, 2007, the Irish American Club in Cleveland held a banquet and award ceremony to honor groups wining awards in 140th St. Patrick's Day Parade. Falun Gong practitioners were invited to attend as the winner of the Most Unique Entry.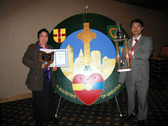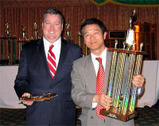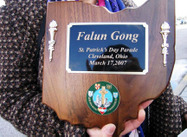 Falun Gong practitioners won the Most Unique Entry award in the St. Patrick's Day parade in Cleveland
The St. Patrick's Day parade in Cleveland is the biggest one among such parades in Ohio and listed as number five in scale in the country. Local media reported that more than one hundred organisations and over ten thousand people participated in the parade. Spectators along the parade route numbered over 300,000. Falun Gong practitioners were the sole group consisting mainly of Chinese. It was the first time for practitioners to participate in this parade in Cleveland.
The organisers of the parade welcomed practitioners' participation and said they had received many calls praising the Falun Gong procession after the parade. All practitioners were dedicated to the parade and the award should be issued to them.
Other participants in the ceremony approached practitioners, praised their performance, and congratulated them on winning the award. Some of them had been spectators at the parade while others saw practitioners in the parade on TV. They hoped to see a Falun Gong procession in future parades. Some remembered the three big characters "Truth-Compassion-Tolerance." One senior lady came to the practitioners' table and praised them, saying, "Thank you! Your procession was wonderful! Falun Gong's three words are very good. Please tell me again. I must remember them." A couple asked to have group photos with practitioners. Those on site waved to practitioners in greeting.
The St. Patrick's Day parade in Cleveland was held on Superior Avenue near downtown. Other entires included a band from Ireland; contingents from the Navy, Army, police, and high schools; various floats; and performance teams. The parade lasted for two hours.
Practitioners demonstrated the grace of Falun Dafa. Banners with "Truth-Compassion-Tolerance" and "Falun Dafa Is Good" and practitioners' yellow costumes were eye-catching. Their float had many small lotus flowers surrounding a large lotus flower. A young lady practitioner in a fairy dress sitting on centre of the flower demonstrated the fifth Falun Gong exercise. A practitioner was dressed as a celestial maiden, and another in a yellow practice suit demonstrated the first four exercises. A waist drum group played the song "Falun Dafa Is Good." Some spectators waved and clapped along with the drums. One girl stepped forward and imitated the practitioners' gestures and tapped a waist drum. A youth followed the practitioners' exercise demonstration and did a heshi [Editors note: Pressing the hands in front of the chest as a sign of respect] gesture.
You are welcome to print and circulate all articles published on Clearharmony and their content, but please quote the source.