On the evening of August 24th 2007, invited by the organizers of the "Night of Art" in Helsinki, Falun Gong practitioners participated in an activity held in the Kannelmakeen Library. The organizers had set aside 30 minutes at the beginning of the event for the practitioners to perform. Practitioners demonstrated the five sets of Falun Gong exercises, performed a dance called "Lotus Flower" and distributed Falun Gong materials and beautiful paper lotus flowers to the audience. They also talked about the beauty of Falun Gong and discussed the Chinese Communist Party's (CCP) persecution of Falun Gong.
The director of the library snack bar remarked, "It is a pity that I did not see all five sets of Falun Gong exercises, because my field of view was blocked by people sitting in front of me." She said she had been to the "Truthfulness, Compassion and Tolerance" art exhibition held by Falun Gong practitioners many times last year.
She continued, "I like Falun Gong. It makes me feel comfortable and I can sense the strong energy field. Falun Gong practitioners are beautiful not only externally but also internally."
Another audience member said, "I know about Taichi, but I would have practised Falun Gong long ago if I had known about it earlier."
One of the event organizers said that Falun Gong was beautiful and that the dancing was also beautiful. He suggested that practitioners perform on more occasions in the future.
Many audience members asked questions, including why the CCP would persecute such a good practice.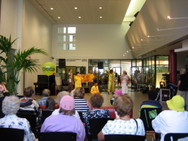 People watching the Falun Gong practitioner's performance at the "Night of Art" held at the Kannelmakeen Library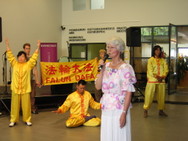 Falun Gong practitioner Sinikka describes to the audience the beauty of Falun Gong, her personal experience and the CCP's persecution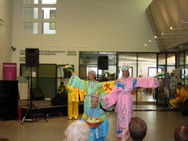 Young women practitioners perform the "Lotus Dance" to show traditional Chinese culture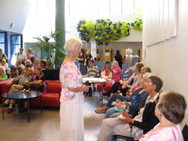 Sinikka talks with the audience and answers questions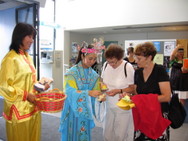 People were happy to receive the paper lotus flower made by practitioners
You are welcome to print and circulate all articles published on Clearharmony and their content, but please quote the source.