As the Asia-Pacific Economic Cooperation (APEC) summit approaches, Falun Gong practitioners from Australia held a press conference in front of the office building of the Prime Minister on August 30th. They called upon Prime Minister John Howard to ask Hu Jintao, the Chinese president, to stop the eight-year long persecution of Falun Gong and help to rescue imprisoned Falun Gong practitioners. Hu will attend the APEC summit.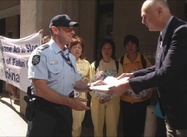 Mr. John Deller, Falun Dafa Association spokesperson, submits the appeal letter to a representative of the Prime Minister of Australia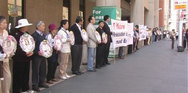 Press conference in front of the PM's office
Mr. John Deller, Falun Dafa Association spokesman, Zhang Cuiying and a practitioner whose mother is jailed in Shanghai because of her faith, spoke at the press conference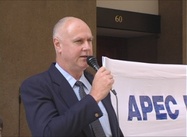 Mr. John Deller, Falun Dafa Association spokesperson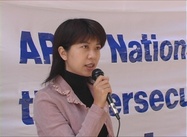 Doris, a Falun Gong practitioner
In his speech, Mr. John Deller pointed out that 21 countries who are going to attend APEC, have kept silent on the issue of Falun Gong due to Chinese Communist Party pressure. Mr. Deller called upon all the prime ministers to recognise the evil nature of the CCP and support Western values of human rights.
Zhang Cuiying, an Australian citizen, is an artist and practitioner of Falun Gong. She was arrested and imprisoned in China while visiting friends and family several years ago, and has filed a lawsuit against implicating China's former dictator Jiang Zemin in the persecution she endured. She expressed at the press conference that she was happy to learn that the Australian Government has finally delivered her legal complaint against Jiang Zemin. The complaint was officially delivered to Yan Nan, a staff member at the Chinese Embassy in Canberra. Penelope Richards, senior legal consultant of the Australia Department of Foreign Affairs, confirmed that the Department of Foreign Affairs had finished the delivery process and informed the New South Wales Supreme Court.
Zhang Cuiying said that if they didn't get a response from the accused, they would seek a trial by default. She hopes that the Prime Minister of Australia will bring up the issue of Falun Gong to Hu Jintao during APEC and help to rescue her nephew Chen Zhongsheng, who is jailed in China. Ms. Zhang said: "Chen Zhongsheng, my nephew, was sent to a labour camp in 2000, where he was badly tortured. In April 2006, he was sentenced to two years in a labour camp again."
Doris, a Falun Gong practitioner, said she wrote to Australian officials to help her mother, who has been jailed in a force labour camp in Shanghai since April 2006 because of her beliefs. She said that her mother's situation improved due to the help of Australian officials. She called upon the Australian Prime Minister to help rescue her mother and other jailed Falun Gong practitioners during APEC.
Ms. Zhao from the Falun Dafa Association of New South Whales stated that Falun Gong practitioners from Hong Kong, Taiwan, New Zealand, Japan and Australia will hold more activities before APEC to help stop the persecution of Falun Gong. The purpose of the activities is to call upon the leaders at APEC to pay attention to the persecution and uphold Western values of human rights. Ms. Zhao said that the leaders should require the Chinese government to stop the persecution.
You are welcome to print and circulate all articles published on Clearharmony and their content, but please quote the source.