July 4th, 2009, was the 233rd anniversary of United States independence. Many cities throughout the country hosted all kinds of activities to celebrate the occasion. San Diego Falun Dafa practitioners were invited to participate parades in Oceanside on June 27th and in Mira Mesa and Rancho Bernardo on July 4th to bring the beauty of Falun Dafa to thousands of residents in the San Diego area.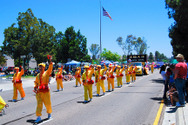 San Diego practitioners participated in the Independence Day Parade in Mira Mesa
Oceanside is the third largest city in San Diego County, and the population has increased rapidly in the recent decade. The parade organisers invited the San Diego Falun Dafa Association to participate in the parade.
For the three parades over two weekends, Falun Dafa's procession was composed of leading banners, a waist drum team, a decorated float, and a celestial maiden dance team.
The leading "Falun Dafa" and "Truthfulness-Benevolence-Forbearance" banners were colourful and attractive. The orderly waist drum team gave strong performances. On the decorated float, several practitioners demonstrated the five sets of Falun Gong exercises.
Practitioners in the San Diego area formed the Waist Drum Team in 2003. In recent years, the team has performed at various community events.
A new banner was added to the Falun Dafa procession this year. It read: "The San Diego Falun Dafa Association Proudly Presents Shen Yun Performing Arts." The association will present Shen Yun Chinese Spectacular shows in San Diego before the end of 2009. The shows will be performed by Shen Yun Performing Arts Company.
Along the parade route were people dressed in red, white, and blue and waving American flags and balloons. Mayor of San Diego City Mr. Jerry Sanders and Mr. Brian Bilbray, Congressman of District 50, participated in the Rancho Bernardo parade.
The spectators were pleased to accept truth-clarifying fliers at the Mira Mesa and Rancho Bernardo parades. When some spectators didn't get one, they walked over to other practitioners to ask for a flier.
The Falun Dafa practitioners' peace and serenity moved thousands of spectators at the three parades. People waved American flags along with the music of "Falun Dafa Is Good" and applauded with enthusiasm. Others took photos and video footage to remember Truthfulness-Benevolence-Forbearance.
You are welcome to print and circulate all articles published on Clearharmony and their content, but please quote the source.