On January 9th-10th, and January 16th-17th, a grand festival is being hosted at the plaza in front of the Buddha Temple near Guanyin hill, in Kaohsiung, Taiwan. The festival theme is "Jujube and Fortunate New Year." "Jujube" sounds the same as the word "early" in Chinese. The festival is promoting the three major natural products of milk, psidium and jujube of Dashe township, and it also features a Jujube Sweetheart pageant contest that attracted many applicants. Falun Gong's waist drum team and Tang drum team were also invited to the parade on January 9th, 2010.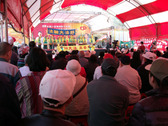 Tang drum team composed of Falun Gong practitioners performs on stage and receives warm applause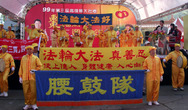 Audience is surprised to see the light and happy waist drum performance on the stage
The parade began at 8:00 a.m. starting from the Dashe Township hall. Led by the township mayor, the community and organisation processions from all villages marched toward the plaza. The Falun Gong waist drum team and Tang drum team were invited to the parade. The practitioners passed out fliers along the route and promoted Falun Dafa to villagers. Some people said they wanted to learn the exercises, and others asked why Chinese Communist Party persecuted Falun Gong. The practitioners patiently explained to them and cleared their doubts. Arriving at the main festival area, the waist drum team and Tang drum team performed on stage and received warm applause from the audience.
After the performances, the mayor of Dashe Township posed for a photo with the Falun Gong practitioners.
You are welcome to print and circulate all articles published on Clearharmony and their content, but please quote the source.