The Lord Mayor of Cardiff, UK, Councillor Brian Griffiths, called Shen Yun Performing Arts "out of this world!" After watching the New York-based performing arts company's début performance to Wales on April 27, the Mayor was highly impressed: "We thought the show would be good. But it was more than good, it was fantastic."

The Lord Mayor of Cardiff Councillor Brian Griffiths called Shen Yun Performing Arts "out of this world!"
The packed audience at the Wales Millennium Centre expressed their appreciation by honouring the artists with a standing ovation and four curtain calls at the end of the performance.
Mr Griffiths was particularly taken with the dancers: "What amazes me is the timing of these dancers with so many on the stage. Every part of that dance is perfectly timed. It is beautiful to watch," he said. "It's the way they can move across the stage in such precision. They look as if they're floating across the stage. It's beautiful to watch. It is really beautiful."
The Lord Mayor had extended his greetings, welcoming the show's début performance to Wales. After attending Shen Yun, he was deeply impressed and said he hoped Shen Yun could return to Cardiff:
"Anybody that's missed this show has missed a beautiful show," he said. "It's a wonderful, wonderful show!"
This is the first time Shen Yun has performed at the Wales Millennium Centre. The centre is the most prominent arts venue in Wales and home to the national opera, national orchestra, national dance as well as other literature and theatre companies.
Mr Griffiths served as a Councillor on Cardiff City Council from 1983 to 1996. He became Lord Mayor in 2009.
Professional Musician Highly Praises Shen Yun
The unique sound of the two-stringed erhu performance greatly moved professional musician Terence Gilmore-James. "It was wonderful," said Mr Gilmore-James. "It has a very special sound-very penetrating."
"The instrument can summon so many different varieties of mood and so many different passions of sound. It can be very poignant, it can be happy and of course when played very fast, it's very exciting, almost percussive in the way that the bow hits the string."
Mr Gilmore-James is an organist, music examiner and lecturer. He said the music in the Shen Yun performance was terrific and that he liked the different colours of sounds within the orchestra.
"The music highlighted really perfectly all the various elements-sad, happy, dramatic and restful. It was wonderful."
A packed theatre delights to Shen Yun's début performance to Wales
But it wasn't the musical elements alone that captivated Mr Gilmore-James. He said that he liked the way the music, dance and costumes combined and that he liked Shen Yun's unique backdrop: "The wonderful pictures behind, it set every scene of every little story perfectly."
Mr Gilmore-James was accompanied by his wife, Grace Gilmore-Jones, daughter of the late Thomas Mansel who is regarded as one of the most influential musicians of his generation in Wales and was head of music for the BBC in Wales. Mrs Gilmore-James now runs a trust formed in his name.
She said that Shen Yun took her breath away. "At each dance that came along, it was so marvelous I kept thinking 'Oh, that was the best, that was the best', and then the next would come along and I would say 'that was the best as well'."
She was already looking forward to Shen Yun's return to Wales. "I'd love to sit nearer next time. Next year I shall be sitting in the front row!"
She also liked what she felt was a clear distinction in bearing between the male and female dancers. "The men are meant to be forceful and the dances are forceful-they're fighting, they're warriors. Whereas the ladies are this graceful movement and they sort of waft in and glide and it's beautiful. It really is lovely."
In conclusion she said, "I'll definitely be here next year-with some family and friends as well!"
TV Presenter Touched by the Innocence
Among the packed audience delighted by Shen Yun's performance in Cardiff was TV presenter, actress, and model Liz Fuller. The owner of the beauty pageant Miss Great Britain, she is also herself a former holder of the title.
Ms Fuller spoke highly of the dancers and their skill. "I think it's very colourful and I loved it!" she said. "What I've noticed is how precise the dancers are, even in the smallest movement."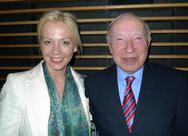 TV presenter Liz Fuller and former aerospace industry director Geoff Evans both spoke highly of Shen Yun
She was touched by the sense of innocence projected by the performers. "We were talking about how China was always suppressed, and it's almost like they're showing that freedom, that innocence coming alive."
Ms Fuller was attending the show together with her mother and her mother's partner, Geoff Evans. Geoff is a retired director of a British Aerospace division. "I'm impressed, very good," he said, adding that he was impressed by the traditional Chinese culture showcased through the performances.
Source:
http://theepochtimes.com/n2/content/view/34247/
http://theepochtimes.com/n2/content/view/34371/
http://theepochtimes.com/n2/content/view/34308/
You are welcome to print and circulate all articles published on Clearharmony and their content, but please quote the source.