Shen Yun Performing Arts met with heartwarming applause as it presented its premiere performance to Turin, Italy. The New York-based artists were welcomed by a very responsive audience at the Teatro Regio on Tuesday June 8, with several standing ovations and three curtain calls.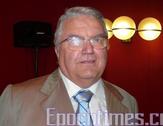 Sir Sette, "The whole show was fantastic!"
Vittorio Sette is a member of the board of the Teatro Regio and a Knight of the Republic of Italy. He has spent time in Macao and mainland China.
Sir Sette was visibly amazed and moved by the show and said it was "fantastic", adding, "I think it was really gorgeous. I didn´t expect a show like that because I didn´t know it was a show done by a group that is all over the world bringing this message of freedom to the world. I was expecting just a show of dancing and nothing else."
He shared his understanding of the current situation in China, where the spiritual discipline of Falun Gong is being persecuted by the communist regime, commenting, "I know it is very difficult there to have religious ideas. But without religious ideas I think you can't live. Because a life only for material things is not worth living ... I was very very happy. And of course the whole show was fantastic!
For Sir Sette, the most impressive aspect of the show were the artists themselves. He enthused, "The show had fantastic dancers and fantastic performers. Also the introduction by the emcees between every scene was very good. This was a very genuine way to present such a show, so my compliments for this show."
He said he will definitely recommend Shen Yun to his friends, exclaiming, "Absolutely. I brought many friends of mine today." He believes at least 15 of his friends will come and he will be very happy to encourage them all to see it.
Sir Sette said he appreciated the animated backdrops which enhance the stories told by the artists, as well as the music.
This year the artists are accompanied by the Shen Yun Performing Arts Touring Company Orchestra, comprised of professional musicians skilled in Chinese and Western traditions. This wonderful and unique blend has helped foster a better understanding of Chinese culture by Western audiences.
Professional Composer Appreciates Shen Yun Orchestra
Antonio Giulio Priolo is a composer and flew 400 miles from Rome especially to see Shen Yun. Originally he was a guitarist and played jazz music but has since studied classical composition and is composing soundtracks for Italian films.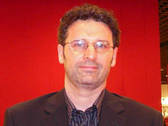 Antonio Giulio Priolo, a composer.
As a professional musician himself, the composer was struck by the diverse sounds of the orchestra, commenting, "I really appreciate the idea of mixing Western instruments with Eastern instruments. ... is fantastic from any point of view. And I also appreciate the idea of combining two kinds of sounds."
He was impressed by the erhu, "It is very nice. Maybe it is connected in some ways to the sound of a violin. It is amazing that just two strings can be so loud and full of emotional different kind of dynamics and musical phrases. Very nice. The first time I heard it on stage. I was very impressed by the player."
The erhu, played by virtuoso Mei Xuan is an ancient two-stringed instrument played with a double bow to produce a firm yet gentle tone. Without a fret, the musician creates diverse tones using only the fingers to create touching otherworldly sounds often compared to the human voice.
With his professional understanding of creating music to accompany visual images, Mr. Priolo also appreciated the state-of-the-art backdrops. "They are very evocative. It is a good idea instead of using still pictures. It is kind of like cinema on stage. That is nice. It is also good to see how well organized the technical part is and how it matches with what is happening on stage. It is very well organized."
Mr. Priolo said he would "of course" be recommending the show to his friends. "It is something very original you don´t get to see anywhere else," he elaborated. "Apart from the beauty of the technical things, you can see this show from different points of view. Not only the dancing and the music, but also what is behind the show."
For Mr. Priolo, the performance delivered a clear message. "Behind the show there are the traditional Chinese people ... and the story of these traditional people--you can see all of this on the stage,." He said "it was good" that the inclusion of the human rights abuse in China was highlighted on stage in two sketches, "Nothing Can Block the Divine Path" and "Astounding Conviction."
Source:
http://theepochtimes.com/n2/content/view/37020/
http://theepochtimes.com/n2/content/view/37056/
You are welcome to print and circulate all articles published on Clearharmony and their content, but please quote the source.